Get this printable quote and decorate your home with this beautiful hand-lettered artwork. Hand Lettering will never go out of fashion — the timeless, yet modern design matches every style and can be added to walls, shelves and much more.
Download this printable quote and create all sorts of stylish designs yourself!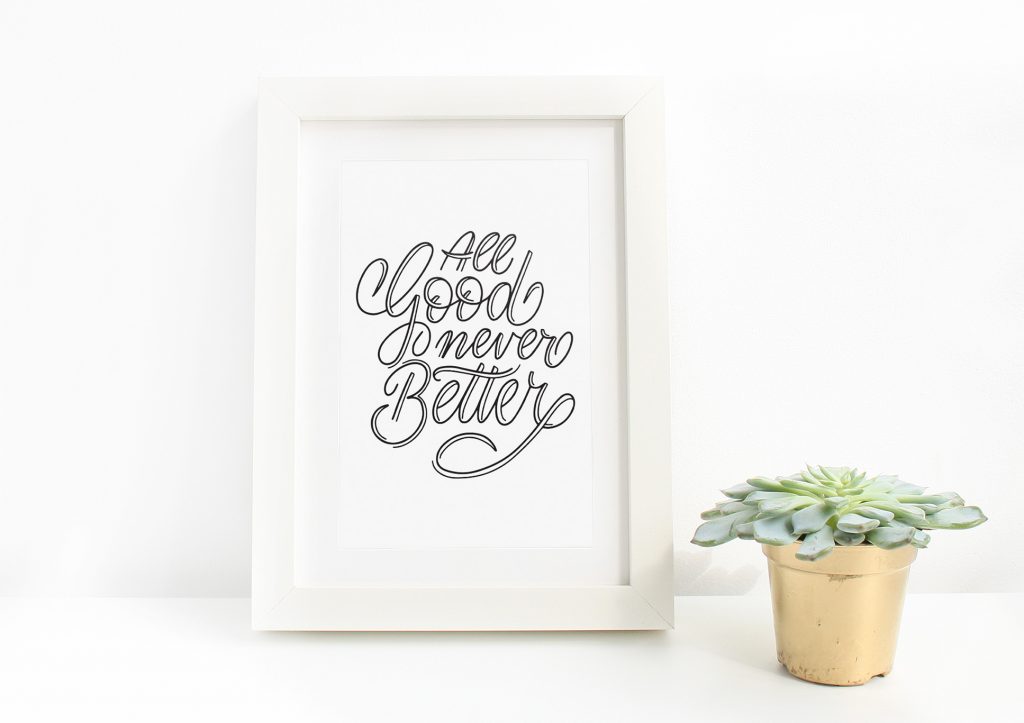 Hand-Lettered Quotes Made with Love
I love to letter inspirational and motivational quotes. First I created them just for myself, but soon enough most of my home decor items were hand-lettered:
Posters, little framed images, postcards, magnets, and even coasters! That's when I realized I wanted to share my love for home decor with the world. So I set out to create this printable quote design.
I hand-drew this artwork on my iPad and processed it with Adobe Illustrator to create a high resolution PDF file you can print at home or at a professional print shop.
Create DIY Home Decor and Designs with this Printable Quote
You can use this hand-lettered quote in various ways. Let's go over some examples how you can beautify your home or how you can use this design to create a gift for someone special.
Here are some ideas:
Gift Idea #1 – Printable Quote as a Greeting Card
Create a unique greeting card with this quote. A conventional card will get filed away with all the other ones. I bet that this one will be a keeper and will find a prominent home on a fridge or the pinboard at work.
Gift Idea #2 – Printable Quote to Frame
Get the quote printed and then put it on a frame you can hang onto the wall, or put it on a shelf. This modern, yet timeless design will beautify any room and will quickly become a favourite home decor item.
Gift Idea #3 – Printable Quote as Wall Art
Print the quote in poster-size. This will make a bold statement when you decorate your home with this unique hand-lettered design. The printable file you can get from me on this page is a high-resolution PDF so you'll have no problems printing it at a large size. It'll look stunning!
Gift Idea #4 – Make a Stylish Wall Collage
Mix and match different quotes in the same style and create a stylish art wall collage. You can add to it over time and it will grow into a unique piece of artwork you can use to decorate your living room or bedroom.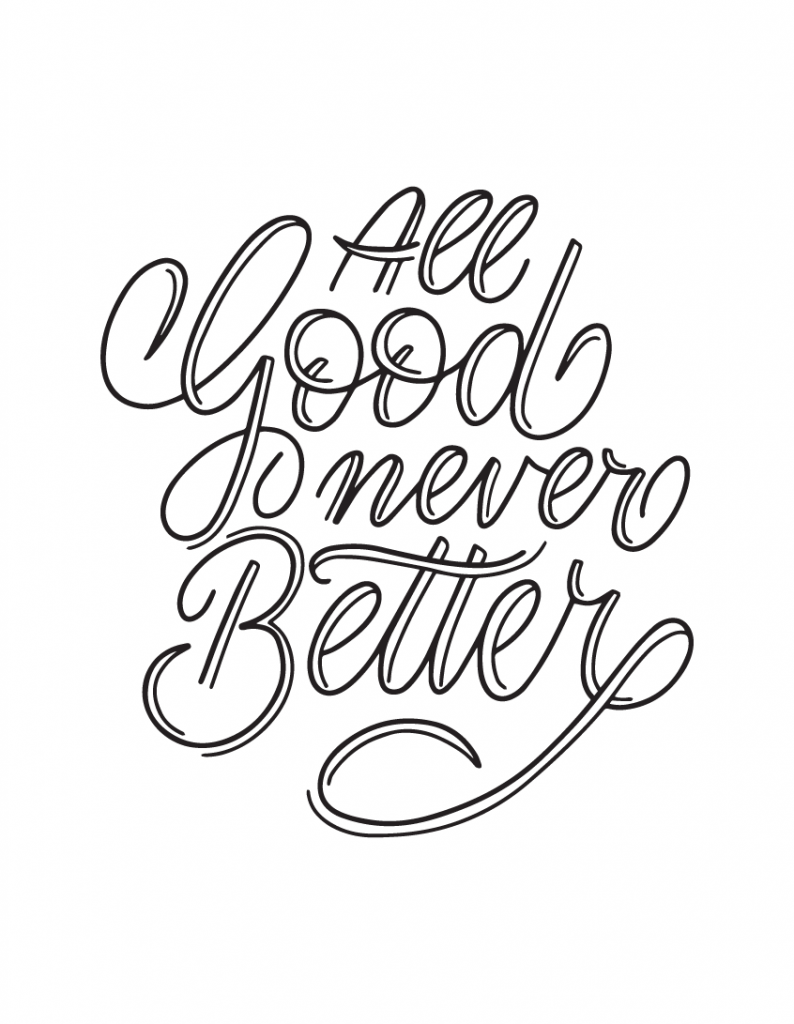 How Do I Print the Printable Quote
After you click the "Download Your Printable Quote" button below and complete the checkout, you'll get a high resolution PDF to download right away.
You can print the downloaded artwork at home with your own home printer. I recommend using a thicker paper (at least 200g) for printing to avoid curled printouts.
Or you could go to a copy shop and have it printed there. The staff at the copy shop will for sure provide you with lots of information, and will help you with the printing process.
This quote is in black and white. That makes it super easy to print with any printer and you'll get a great looking result with little effort.
Here's a bonus tip:
If you'd like to bring in some color, use coloured paper and print the quote on that!
Do You Have Questions or Need Help with the Printable Artwork?
Please don't hesitate to contact me if you have any questions. I'm happy to answer anything you're curious about. You can reach me over email at hello@anjapircher.com.
Please note:
This is a digital download and not a physical product. You'll receive this printable quote lettering as a PDF download. PDF is a standard graphic format that you can use to print the design at home using your own printer, or at a copy shop, or any other professional printing company.
Please keep in mind that:
Reproduction of this artwork is for personal use only; this excludes ANY use for commercial purposes. (If you'd like to acquire commercial use rights please contact me at hello@anjapircher.com)