Get this high-resolution printable love quote and create the perfect gift for your darling. Print it large and frame it to make a big statement. Or print this quote small and send it as a card. So many possibilities!
Be prepared for occasions like Valentine's Day, anniversaries, birthdays or give it as a little attention in between. She or he will love it 🙂
A hand lettered love quote will never go out of fashion — the timeless, yet modern design matches every style and can be added to walls, shelves and much more!
Download this printable love quote and create all sorts of stylish designs yourself!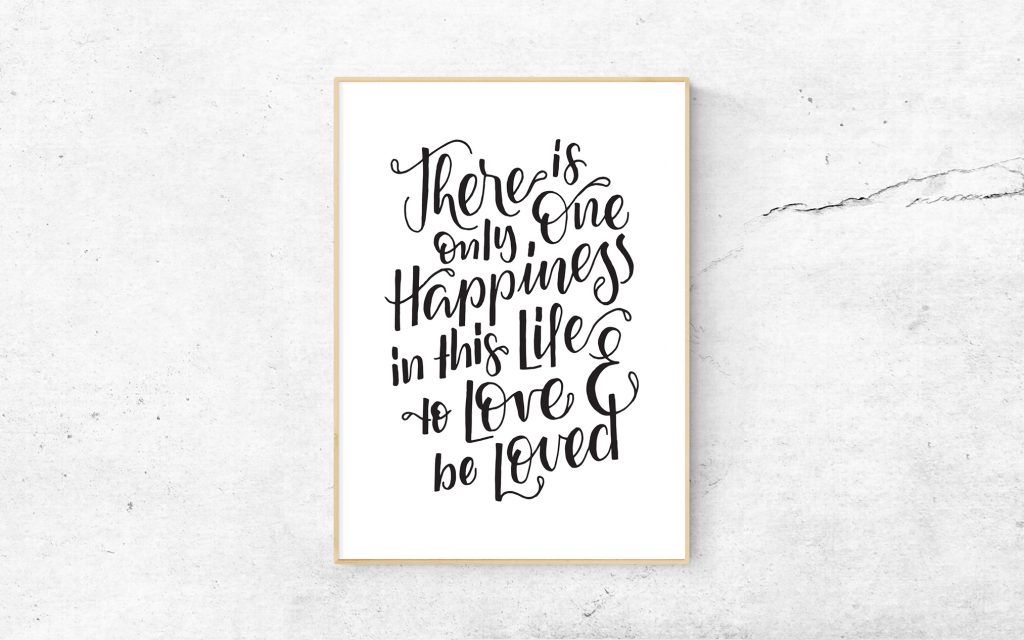 Hand-Lettered Printable Love Quote Created with Love
I searched the whole internet for a decent love quote. Either they were super cheesy or they just didn't feel right. Until I found this quote "There is only one happiness in this life, to love and be loved." by George Sand. Sure there are other things that triggers happiness too like cuddling dogs or hearing popcorn pop in the frying pan.
But since I was looking for a love quote for a friend's wedding, this one was perfect. Instead of a standard greeting card I created this artwork and put it in a 13×18 cm frame. The best wishes I wrote on the back of the frame. You see, this love quote works also very well as a wedding present!
I hand-drew this artwork on paper and processed it with Illustrator to create a hight resolution design. I kept the hand-drawn touch to it to make it more personal.
Print this Love Quote and Create a Unique DIY Gift for Your Loved Ones
I give you some examples on what you can create with this printable love quote. There are various ways how beautify your home or how to create a gift for someone special:
Gift Idea #1 – Printable Love Quote as a Greeting Card
Create a unique greeting card with this quote for Valentine's Day. A conventional card will get filed away. I bet that this card will find special place …
Gift Idea #2 – Printable Love Quote to Frame
Put the printable love quote in a frame and your darling can hang it onto the wall or put it on a shelf. This modern, yet timeless design will beautify any room and will always remind you on how great love is 😉
Gift Idea #3 – Printable Love Quote as Wall Art
Print the quote in poster-size. This will make a bold statement to show your love. The printable file you can get from me on this page is a high-resolution JPG so you'll have no problems printing it at a large size. It'll look stunning!
Gift Idea #4 – Make a Stylish Wall Collage
Mix and match different quotes in the same style and create a stylish art wall collage. You can add to it over time and it will grow into a unique piece of artwork you can use to decorate your living room or bedroom.
How Do I Print the Printable Love Quote
After you click the "Download Your Printable Quote" button below and complete the checkout, you'll get high resolution JPGs to download right away.
Your purchase includes:
• Print Instruction Sheet
• International Paper: A2, A3, A4, A5
• US Letter
• 10x15cm | 4x6in
• 13x18cm | 5x7in
• 31x41cm | 12×16 in
• 40x50cm | 16x20in
• 23x23cm | 9x9in
1. Print the love quote on your home or office printer
Perfect for printing small sizes up to A2 and U.S. letter size (depending on your printer's maximum size).
Pro Tip: Use card-stock/textured paper to make your print feel more lux. I recommend using a thicker paper (at least 200g) for printing to avoid curled printouts.
2. Email or take files to a local printer or Copy Shop
This method is good if you want larger sizes and more paper options (I prefer matte).
If you plan to frame and hang this art, I recommend to print it professionally. The print will last longer because a copy shop usually use better, archival inks.
3. Upload and print online at Flyeralarm.com, Vistaprint.com, shutterfly.com, …
You can comfortably order the print from your couch.
Online printers also print large sizes and have different paper options (I still recommend matte or lustre), they also use archival inks in most cases.
Online printers also print on canvas, which is a lovely option for a wall art.
This quote is black and white. That makes it super easy to print with any printer and to get the best result.
Here's a bonus tip:
If you'd like to bring in some color, use coloured paper and print the quote on that!
Do You Have Questions or Need Help with the Printable Artwork?
Please don't hesitate to contact me if you have any questions. I'm happy to answer anything you're curious about. You can reach me over email at hello@anjapircher.com.
Please note:
This is a digital download and not a physical product. You'll receive this printable quote lettering as a JPG to download in different sizes. JPG is a standard graphic format that you can use to print the design at home using your own printer, or at a copy shop, or any other professional printing company.
Please keep in mind that:
Reproduction of this artwork is for personal use only; this excludes ANY use for commercial purposes. (If you'd like to acquire commercial use rights please contact me at hello@anjapircher.com)