A Stampin' Up! Demonstrator Logo Design Case Study and Social Media Templates
Dedication, passion and a unique Stampin' Up! Demonstrator Logo are key to stand out among other competitors.
Stampin' Up! is the leader in decorative stamps, handmade greeting cards, and papercrafting. Their products are available through a network of independent sales consultants called demonstrators.
Dedication and passion made my client Steffi to the top demonstrators worldwide. After a few years of running her business she wanted to redesign her current logo. Her new Stampin' Up! Demonstrator Logo brings her already successful business to the next level.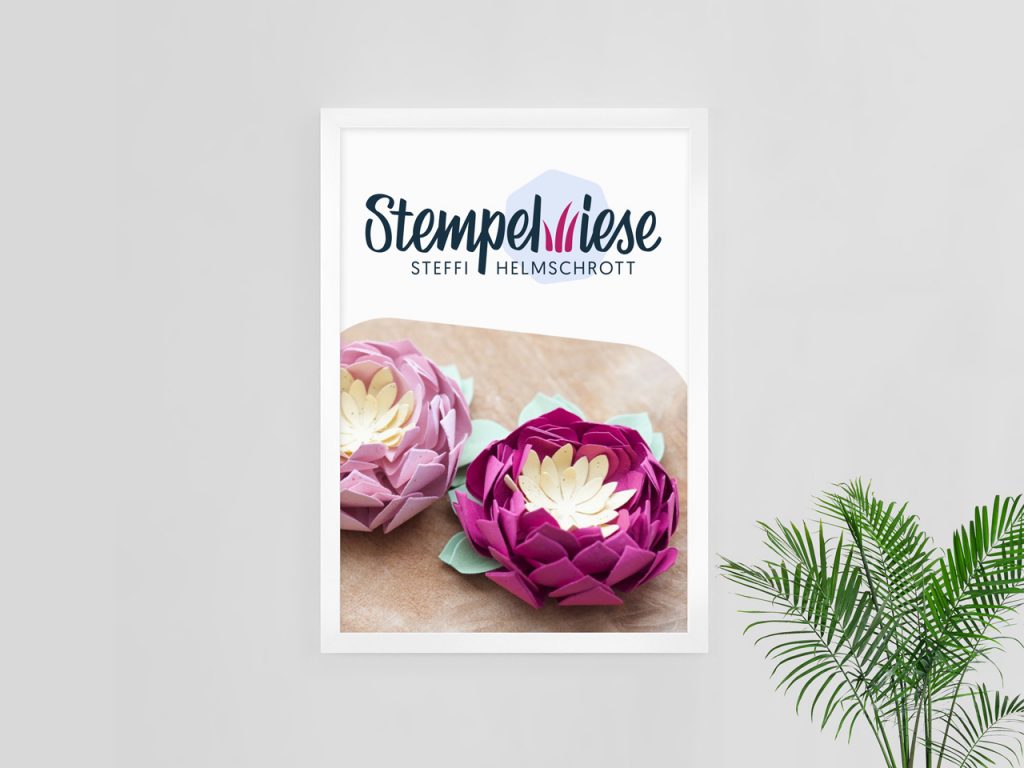 Industry:
Art & Craft Products
Client:
Stempelwiese,
Stampin' Up! Demonstrator
Project Details:
Art Direction
Branding
Social Media Template
The Stampin' Up! Demonstrator Logo Redesign Case Study
Steffi and her husband Helmut contacted me because they wanted to redesign their current Stampin' Up! demonstrator logo. A couple of years ago they got their first logo via 99designs. They liked the logo but pretty soon figured that this logo was not versatile enough. The designer of the logo also was no longer reachable to make adjustments to the logo.
It is tricky to stand out amongst the Stampin' Up! demonstrators. If someone is setting a trend, the others will follow. That's why most demonstrator logos have watercolor-elements, floral designs or a stamp-icon. Very often you see Stampin' Up! demonstrator logos that share the same handwritten font.
Steffi wanted a timeless logo design for her business that will never go stale. A logo design that is so unique that nobody can copy. A logo design she will be happy with for a long time.
Steffi's business name is Stempelwiese. The name is composed of two words: Stempel = stamp, Wiese = meadow

Old Logo Design:
Standard handwritten font
Too thin and hard to read
The logo is fragile and weak
Unnecessary details
The design is interchangeable
New Logo Design:
Custom, handwritten logotype
Bold logotype, easy to read
Confident and strong logo
Design-details, tailored for the brand
Unique design that nobody can copy
The Art Direction Phase
We started with collecting ideas, styles and typography examples that we liked. We then discussed the results of our findings.
My clients had a pretty clear idea of the new logo design for Stempelwiese:
The brand name Stempelwiese definitely should be hand lettered. That means all letters are drawn from scratch.
Additionally to that my clients wanted to incorporate the letter -S- into an icon. The letter -S- stands for Stampin' Up, Steffi and Stempelwiese. Having an icon as sub mark is very handy to use on smaller spaces, to watermark an image or as a favicon on the website.
Another thought was to work with some floral elements that reflect the word Wiese (meadow) in the business name.
Origami/Paper elements were also very high on the wish list, since that is the most used material in the Stempin' Up! community.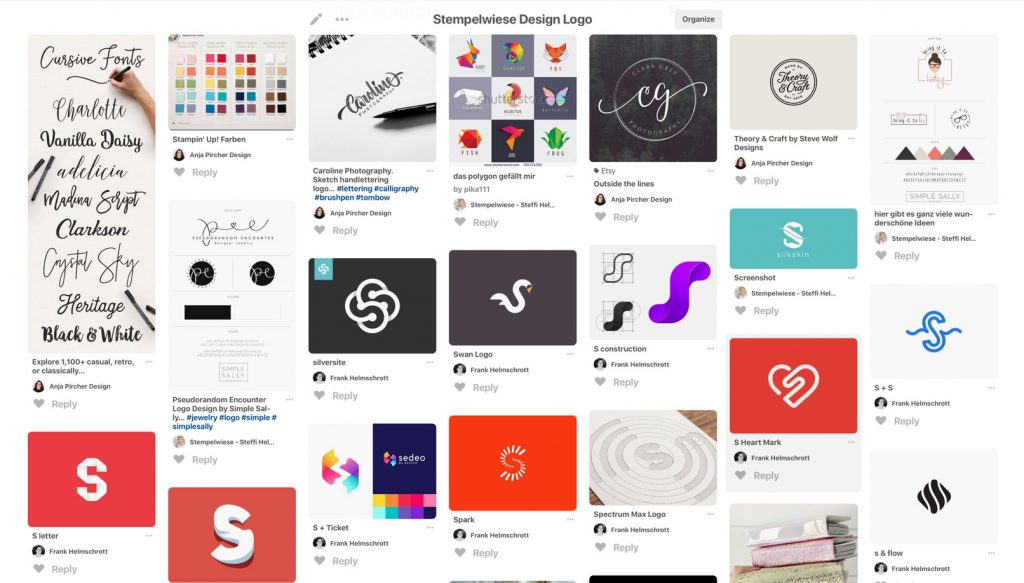 The Design Phase
I took the provided goals, applications, and target audience and balanced it with the aesthetic of the stylistic examples we agreed on in the Art Direction phase.
I created multiple concepts and variations to choose from. This is an overview of the logo design drafts that made it to the final decision round:
An illustration of Steffi's portrait as icon, heart-elements and origami inspired -S- shapes.
The Final Decision Making
During the design process I figured that it was quite difficult to pair an icon with the hand lettered logo type. The brand name Stempelwiese was already very wide, and the icon made it even wider. To place the icon on top the brand name was not an option either.
That's why I approached the "icon idea" differently and made a little playful detail within the brand name. I drew the -w- of the second word "Wiese" (=meadow) in the shape of some blades of gras.
I was very happy and surprised at the same time when Steffi and Frank decided to go with this new design approach.

The Color Palette
In terms of color, my customers already had their preferences. Steffi's favorite color is pink and Helmut wanted to have a more neutral color for the website. So we kept the lettering in a very dark pink and the meadow-detail in a strong, bright pink.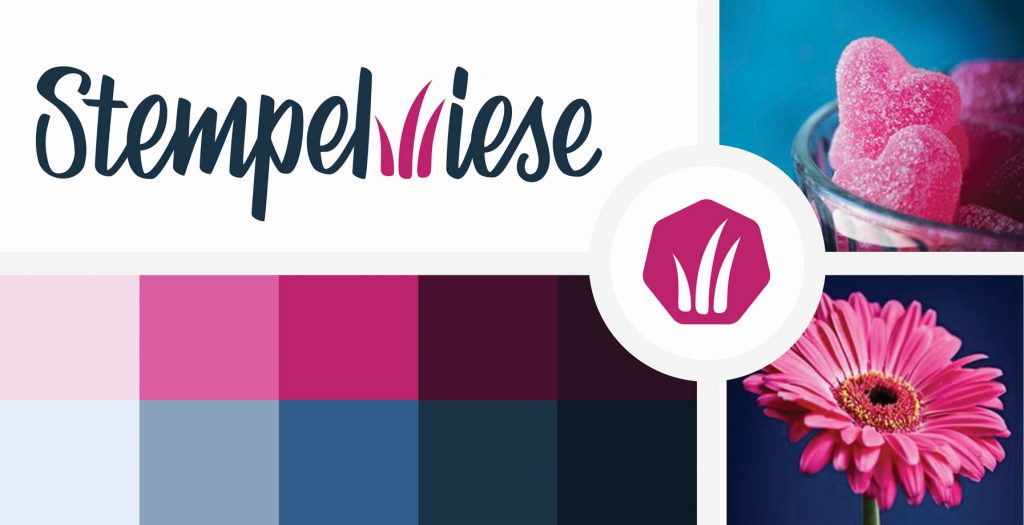 The Final Design Phase
I built each letter of this Stempelwiese logo from scratch. The advantage of a customised logo type is that you don't come across the same hand lettering a second time. Unlike a ready-made hand lettering font that your competitors might use as well.
We then did extract the meadow-detail to use it as a logo mark. That was perfect, because now we also had the icon that we wanted at the beginning.
This design detail is truly unique and no one can simply copy it because it would not make sense for another brand. The Stempelwiese icon is not interchangable such as a S-shaped icon, a heart or a paper origami symbol. Any Stampin' Up! demonstrator could use design details like these.


Secondary Logo and Logo Mark

Customised Templates for Social Media
Stampin'Up! is a business where you can order craft supplies and look through physical catalogues.
Steffi recognized early on to use social media to her advantage. She is most of all very active on Youtube and Instagram. Therefore we developed customised templates that she can alter as she need for her posts.
We used the hexagon from the main logo as the basic shape. Steffi can choose from different variations and adjust the colors to the respective posts.
Customised Templates for Youtube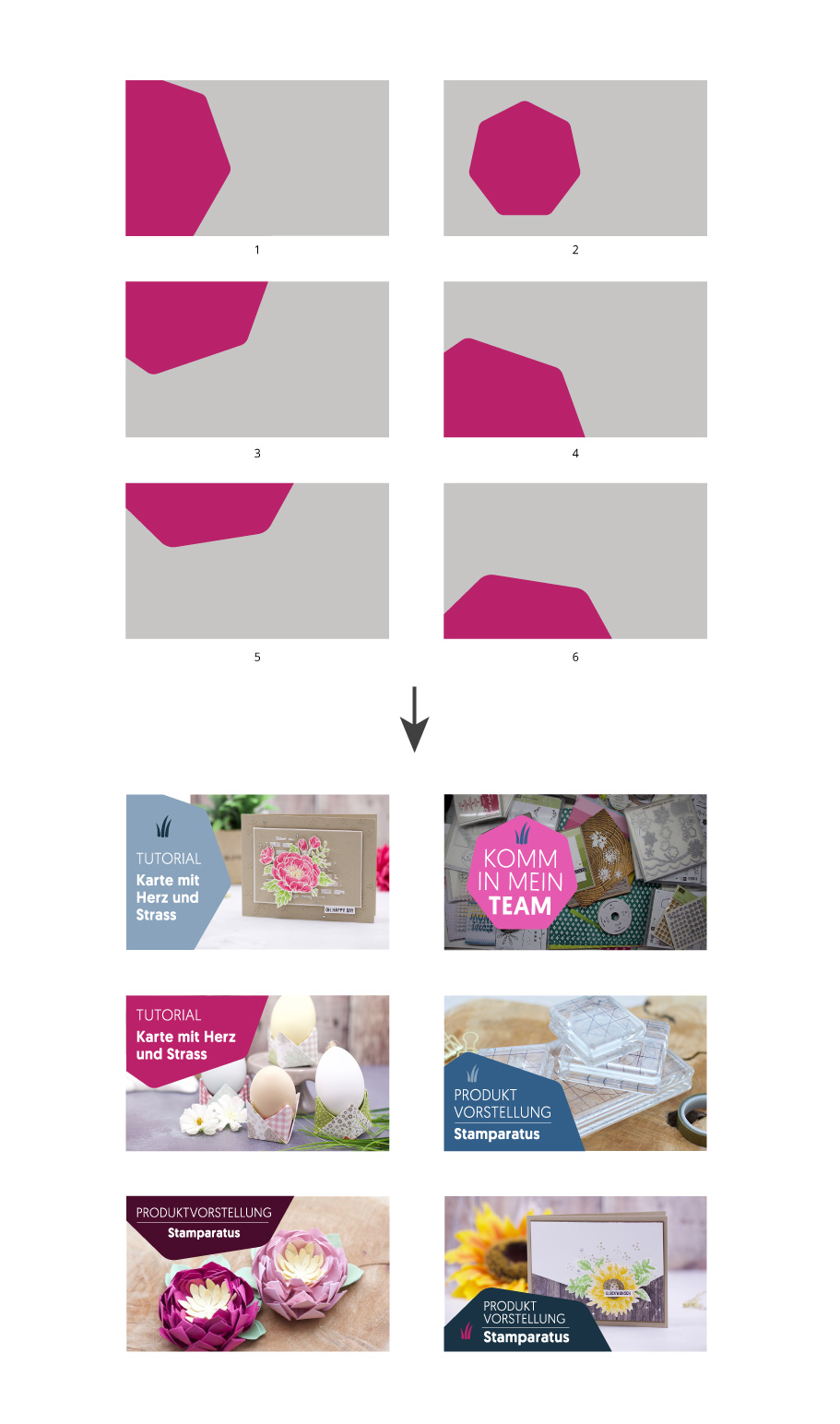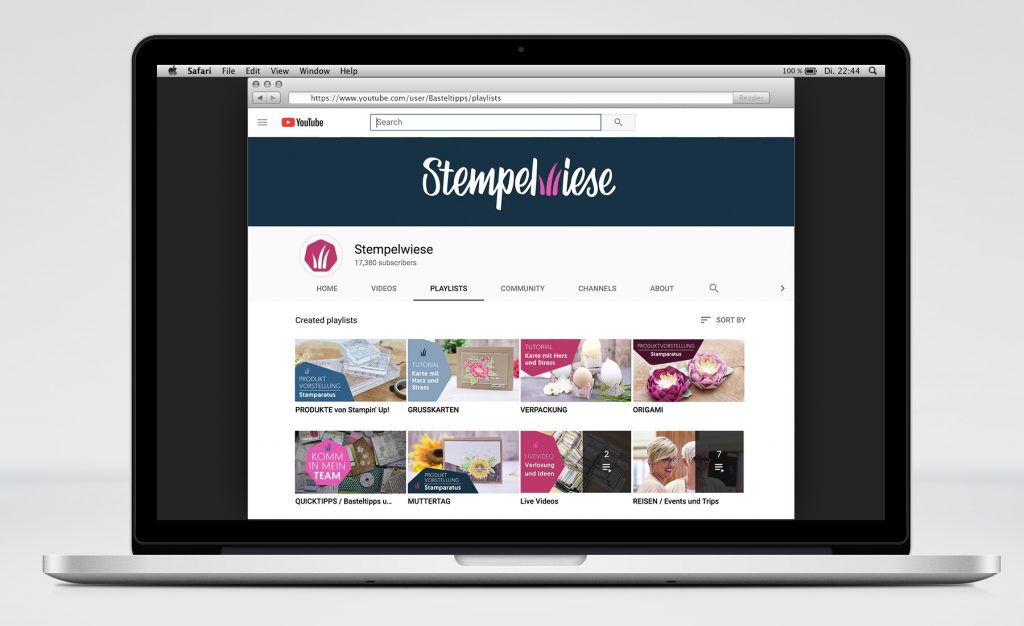 Customised Templates for Instagram