A Coobook Case Study
When I got the opportunity to create a cookbook design I was very excited. Being Italian, the daily routine depends on the meals. Especially when I visit my grandma the meals are clockwork. When my grandma held the printed cookbook for the first time in her hands she teared up a little bit and I suspect, now she finally understands what I do for a living 😉
Bernd Schützelhofer is a Gourmet chef who runs the restaurant Paul's in Switzerland. With this cookbook "Einfach Perfekt" (Simply Perfect) Bernd Schützelhofer grants for the first time comprehensive insights into his kitchen and presents selected favorite recipes for cooking at home. In addition, the reader learns personal stories and backgrounds that influence his culinary art.
I worked on this project with the amazing people from the agency CONTUR and the talented photographer Lisa Dünser. To work on this cookbook for almost a year with such a great team was pure joy and a lot of fun.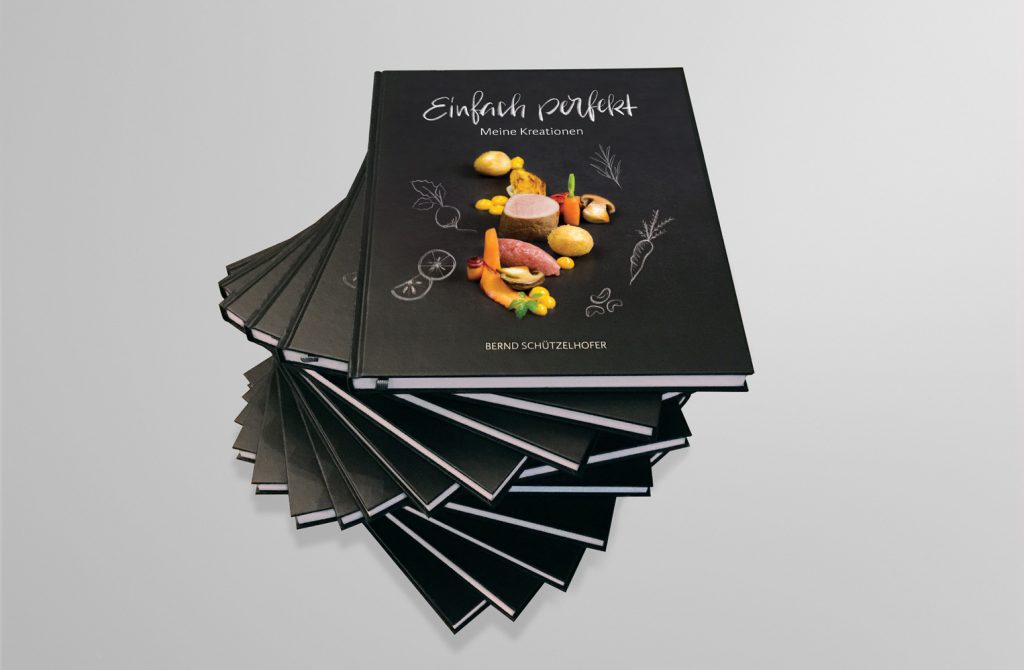 Client:
Chef Bernd Schützelhofer
Project Details:
Art Direction
Layout Design
Illustrations
Hand Lettering
Marketing Material
Art Direction & the Love for Details
Bernd's cuisine is very detail oriented and you can taste the passion that he's bringing to each one of his recipes. I wanted to mirror Bernd's love for details into the cookbook design. Thus I added hand lettered artworks as well as many little illustrations and details.
I've chosen a chalkboard background to reflect the local and fresh ingredients that Bernd is using in his kitchen.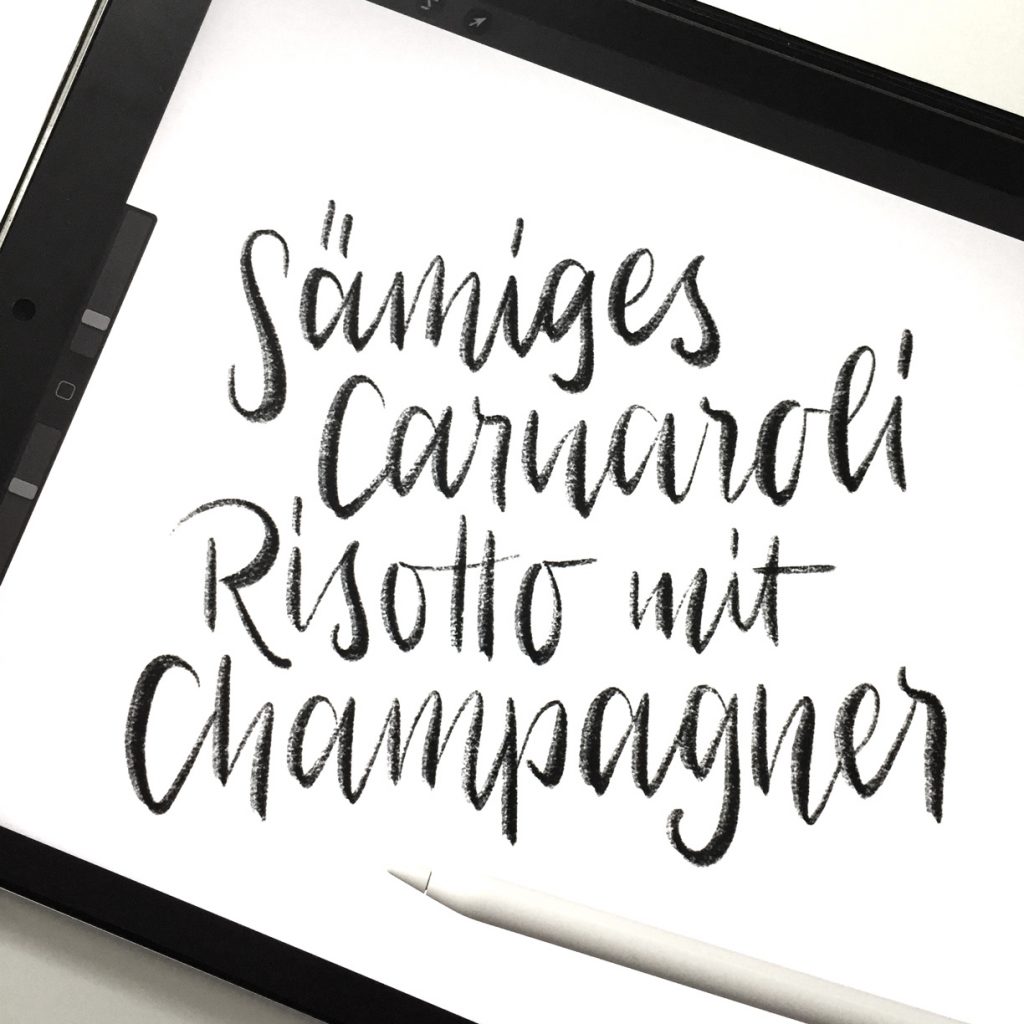 The cookbook is divided in 5 chapters. Each chapter addresses a sections of his career: Lehrjahre – Years of Apprenticeship, Anfangsjahre – Early Years, Wanderjahre – Years of Exploration, Gründerjahre – Founder Years, Genussjahre – Years of Enjoyment
Each chapter begins with a handwritten quote. An icon underlines the topic of this chapter.

I added hand drawn details throughout the cookbook design to give it an unique and personalised character.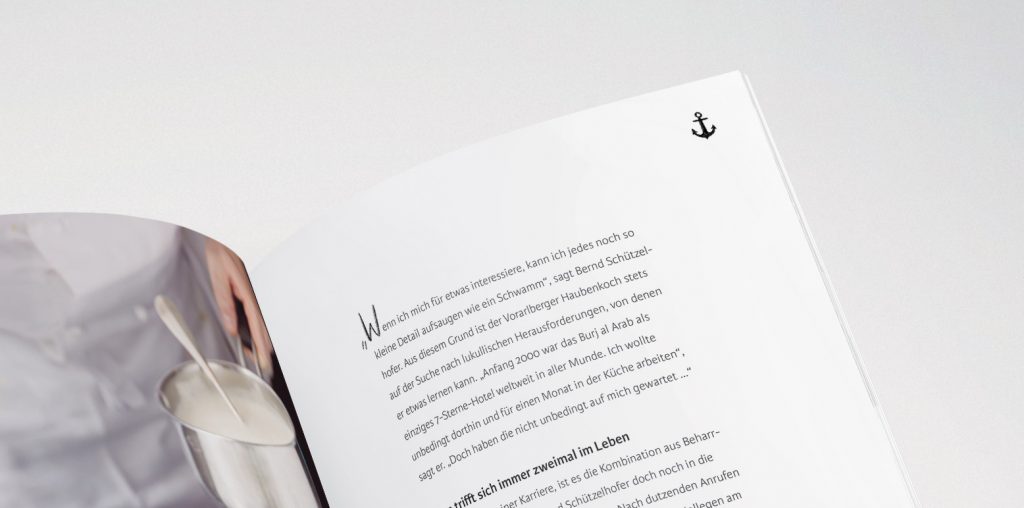 The finished Cookbook Design
The cookbook is 172 pages long. Each of the 5 chapters addresses a milestone of the chef's career.  The 22 recipes are a great variation of starters, main courses and desserts that you can try to cook at home. Some recipes even have a wine recommendation. Beautiful double-sided images throughout the cookbook give an even better look behind the scenes of Bernd's kitchen.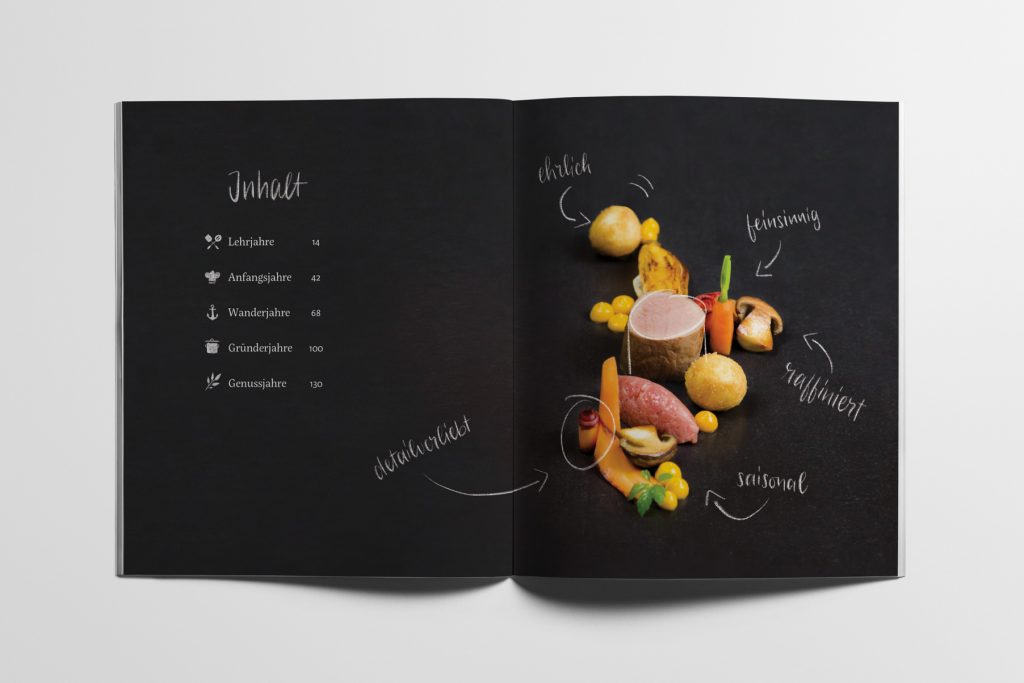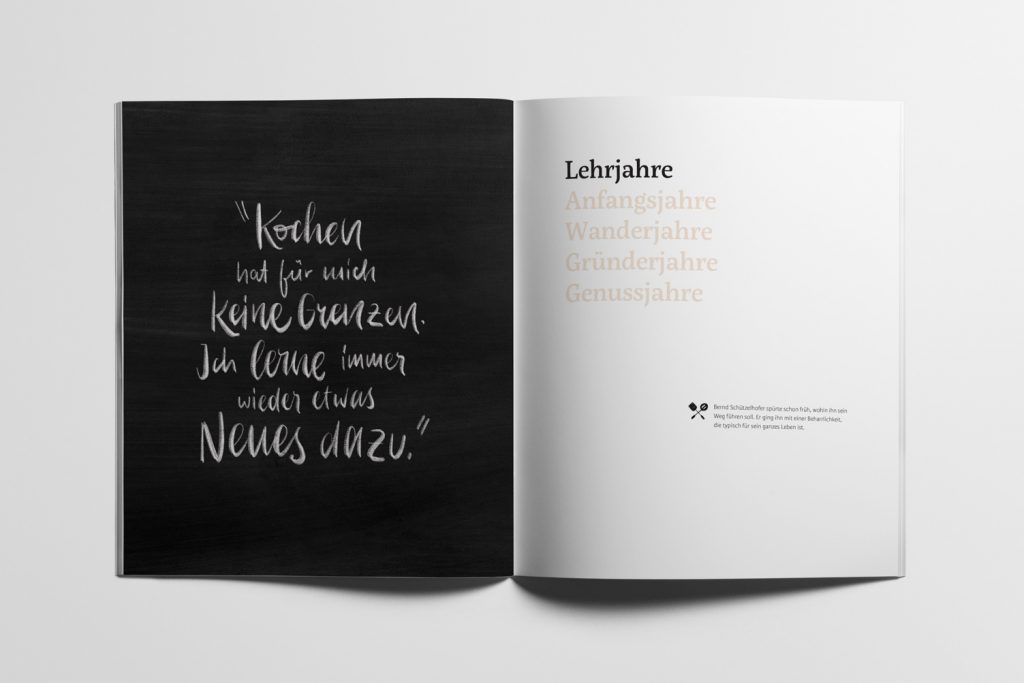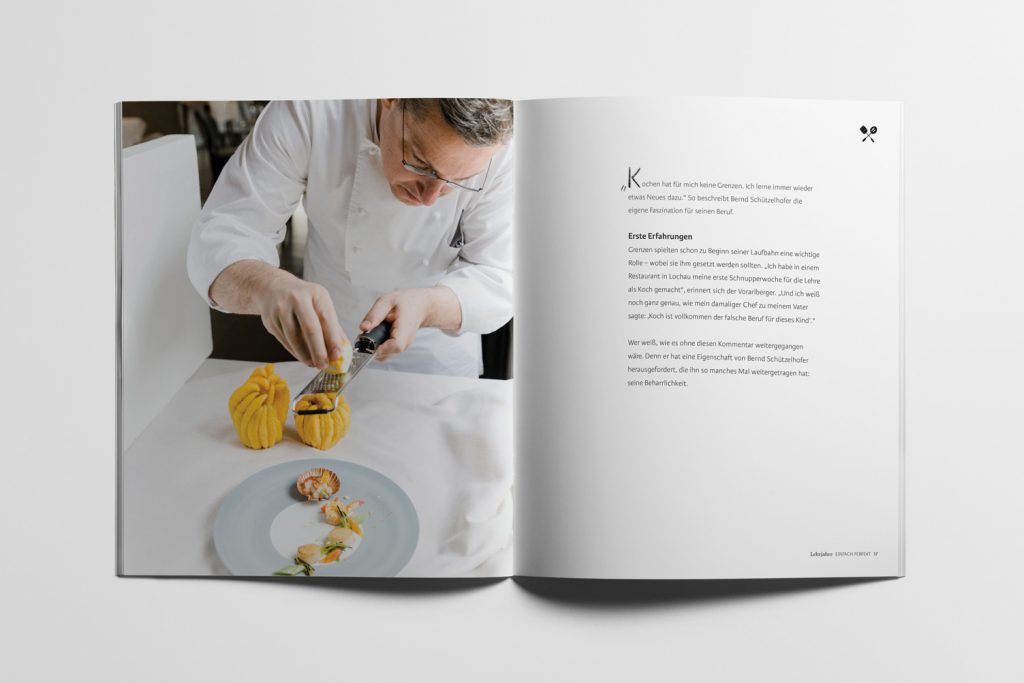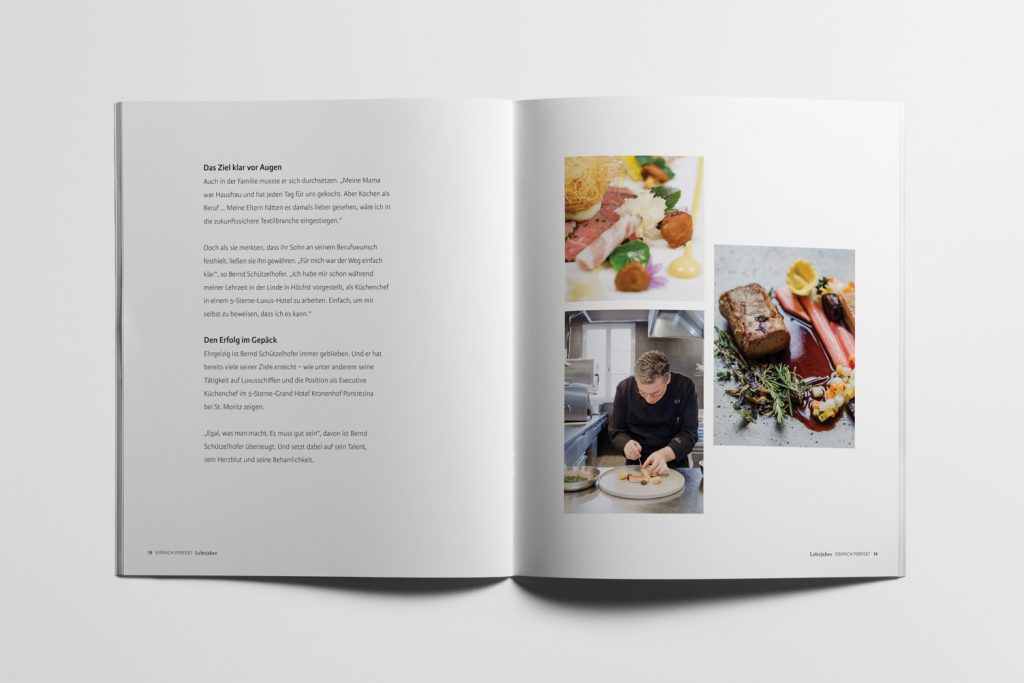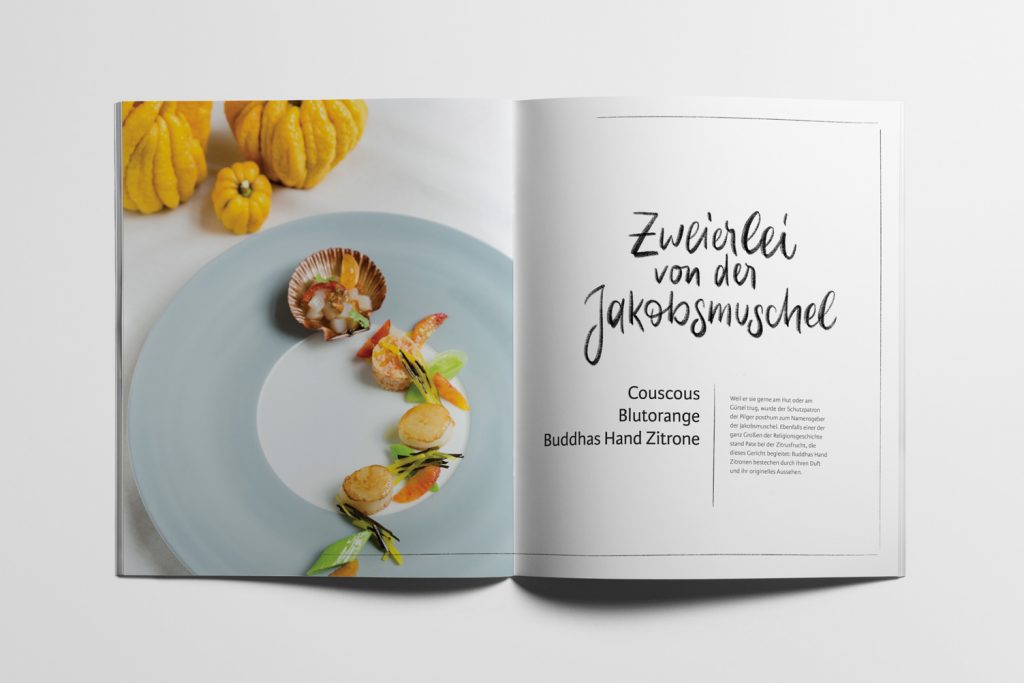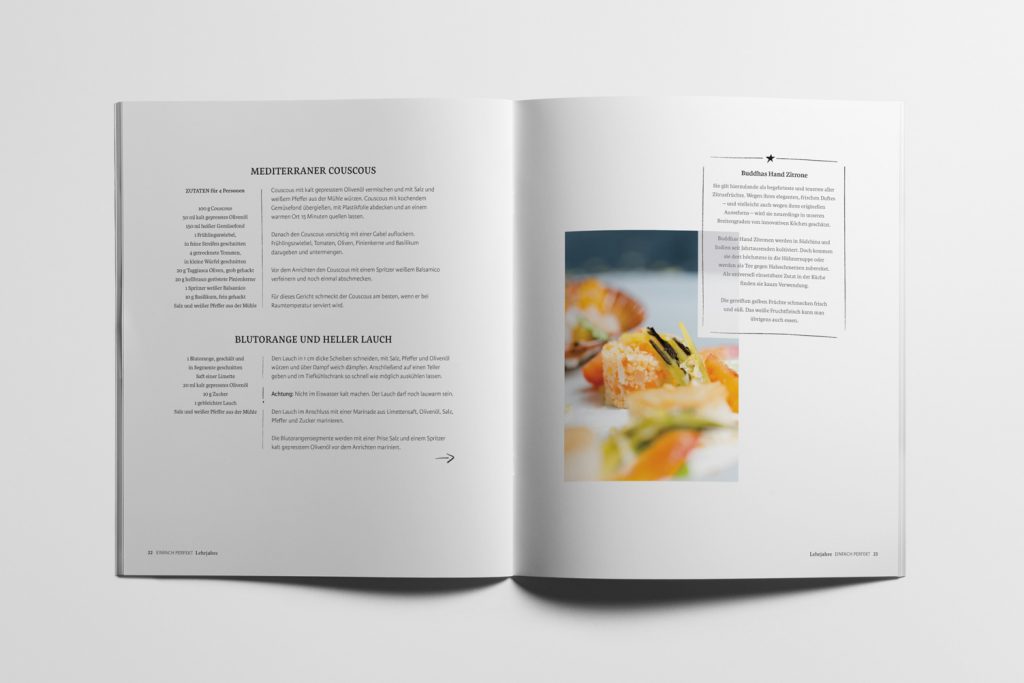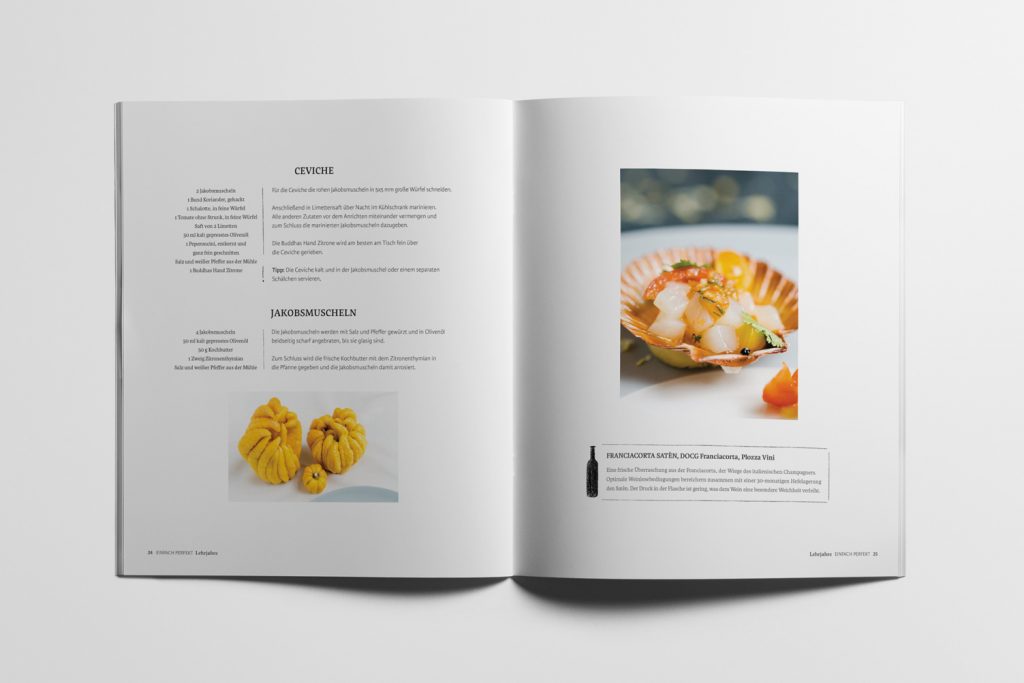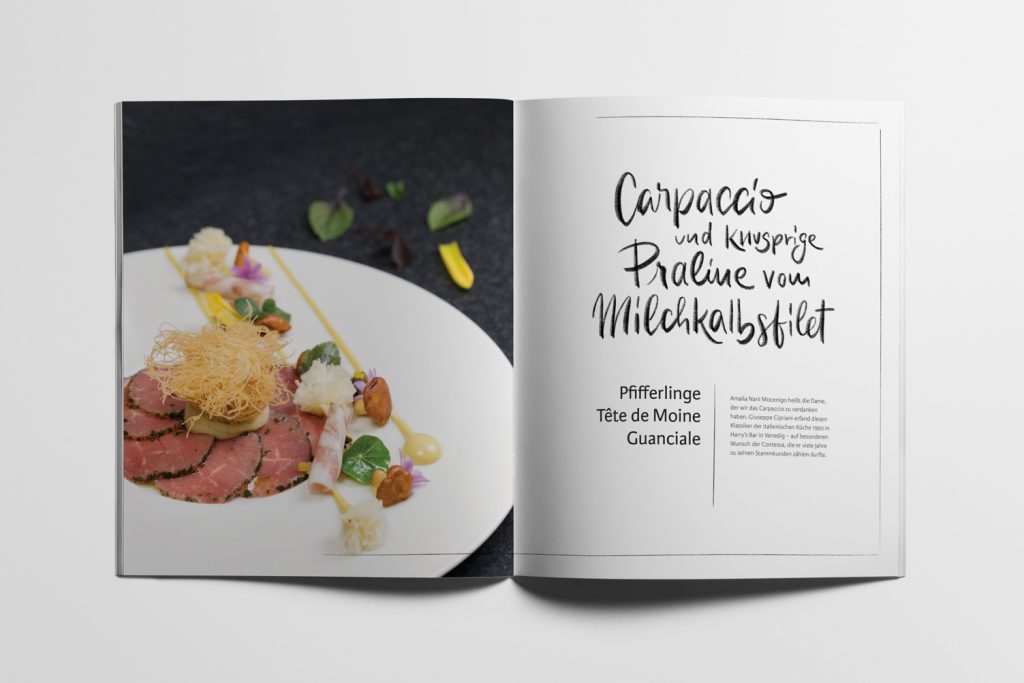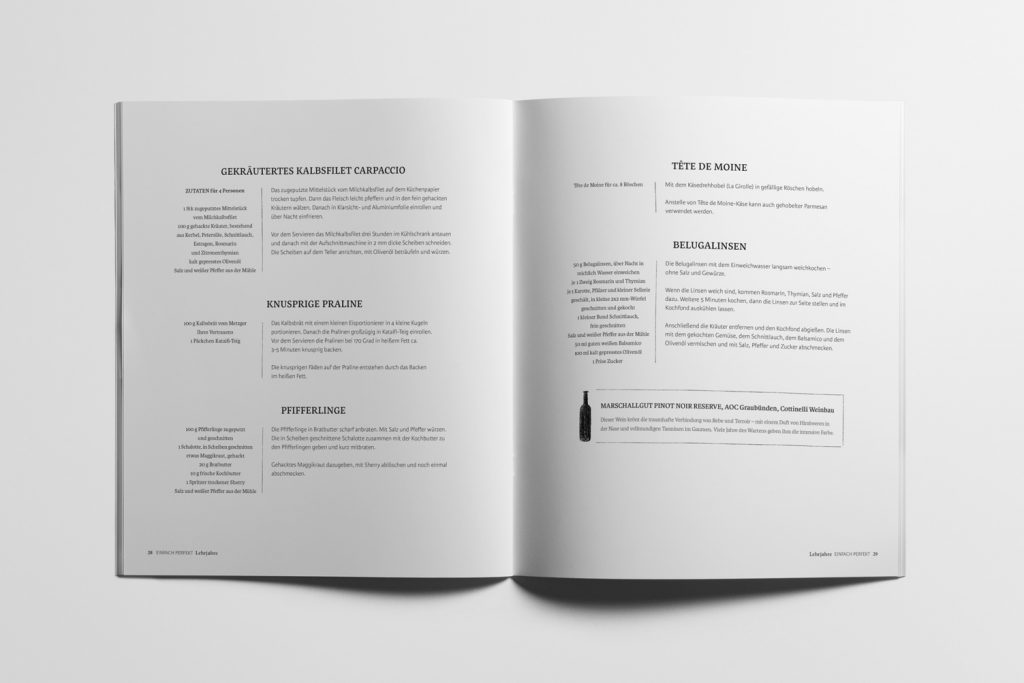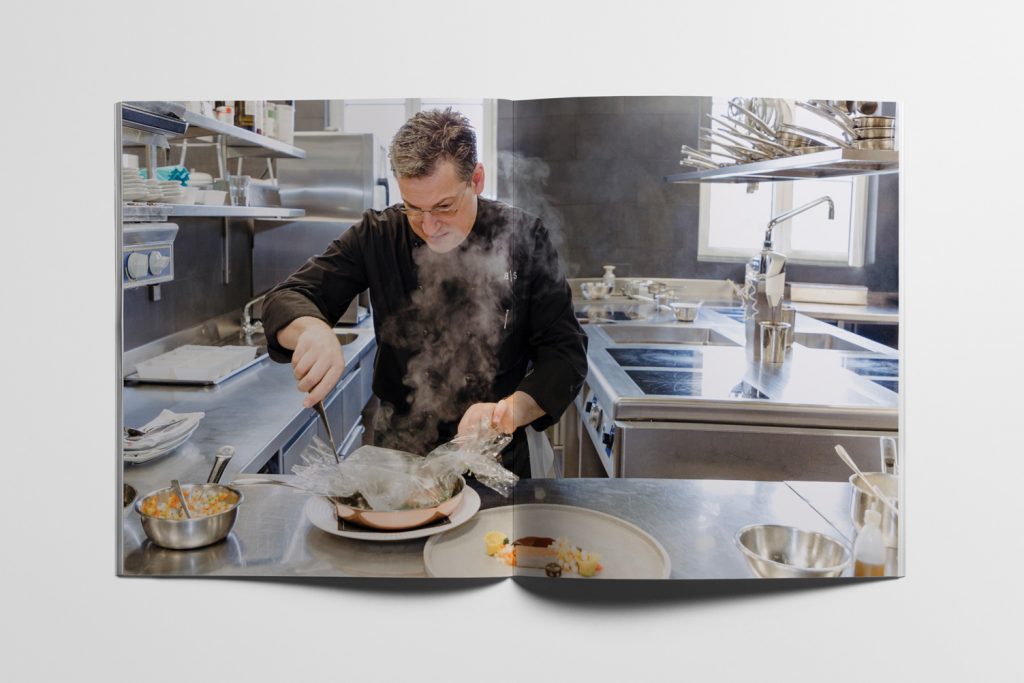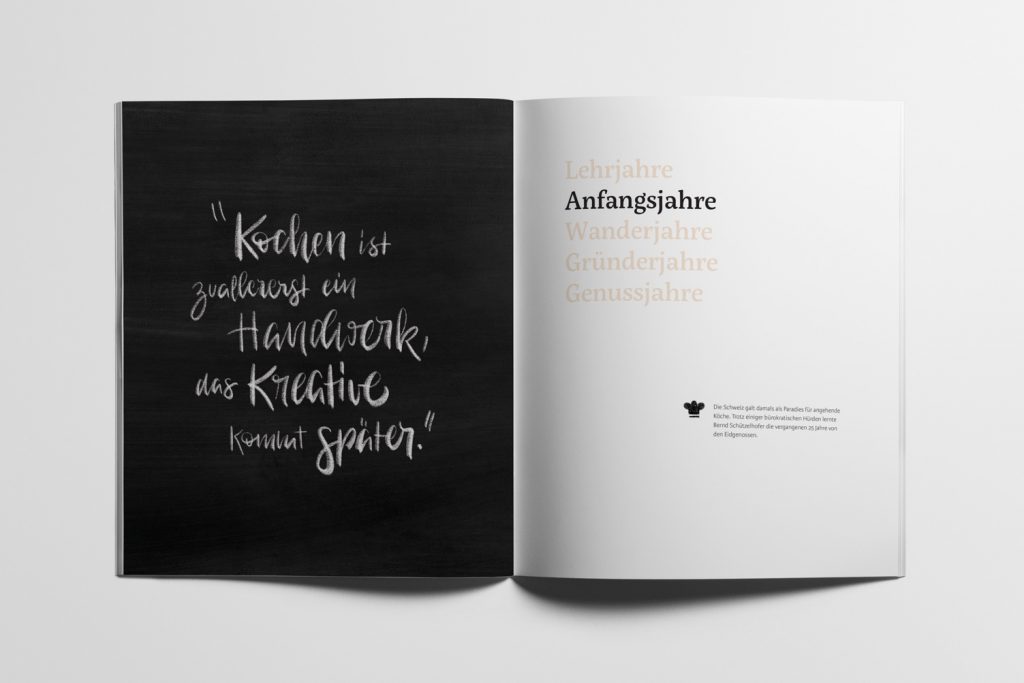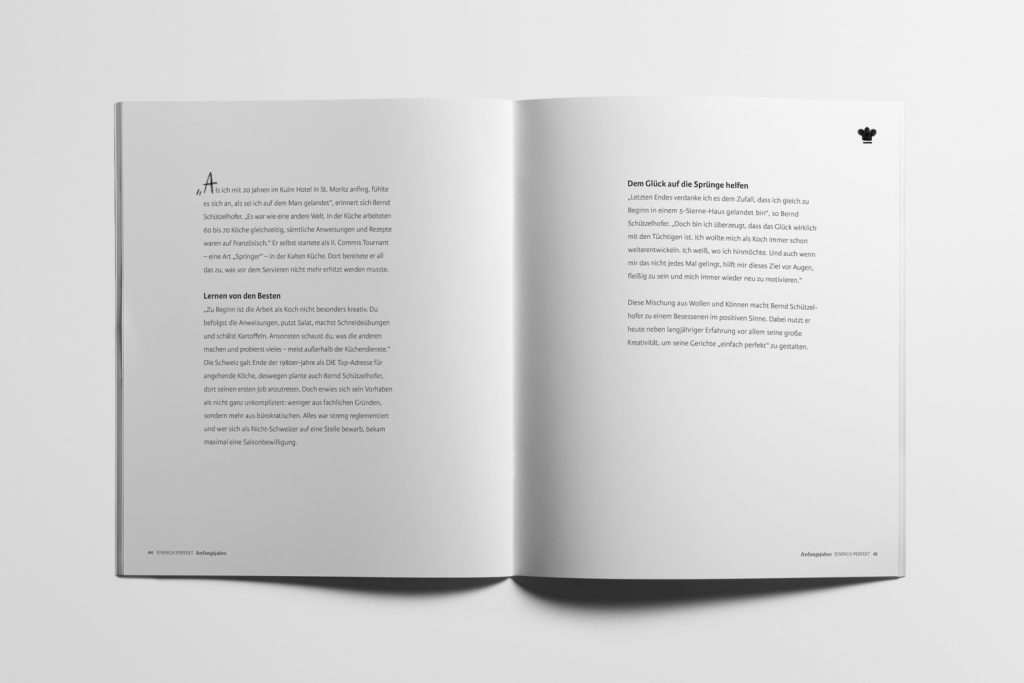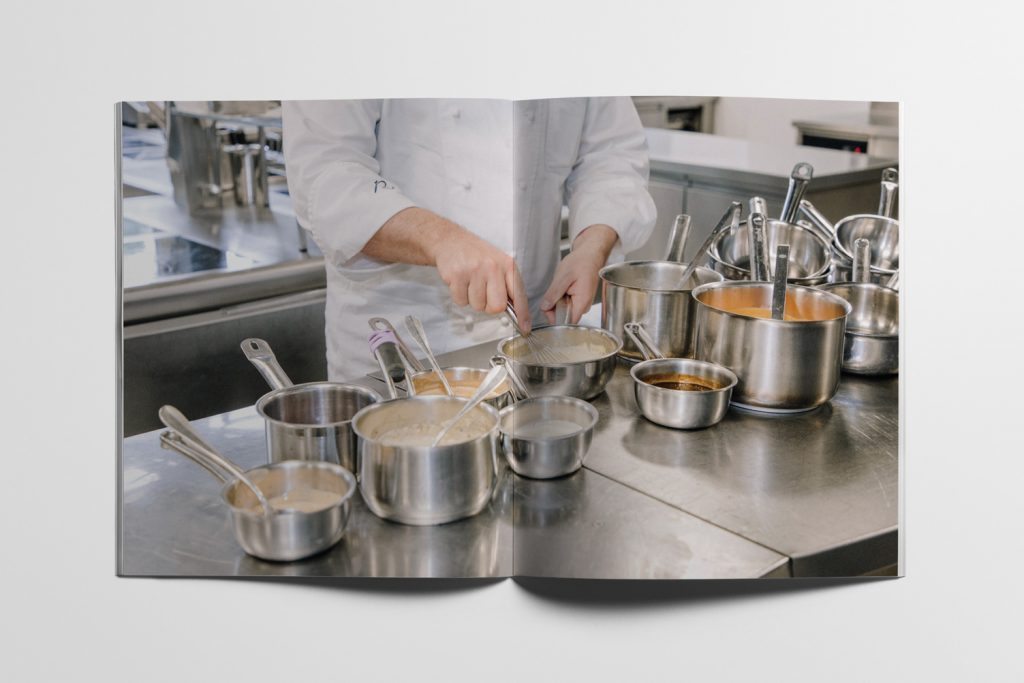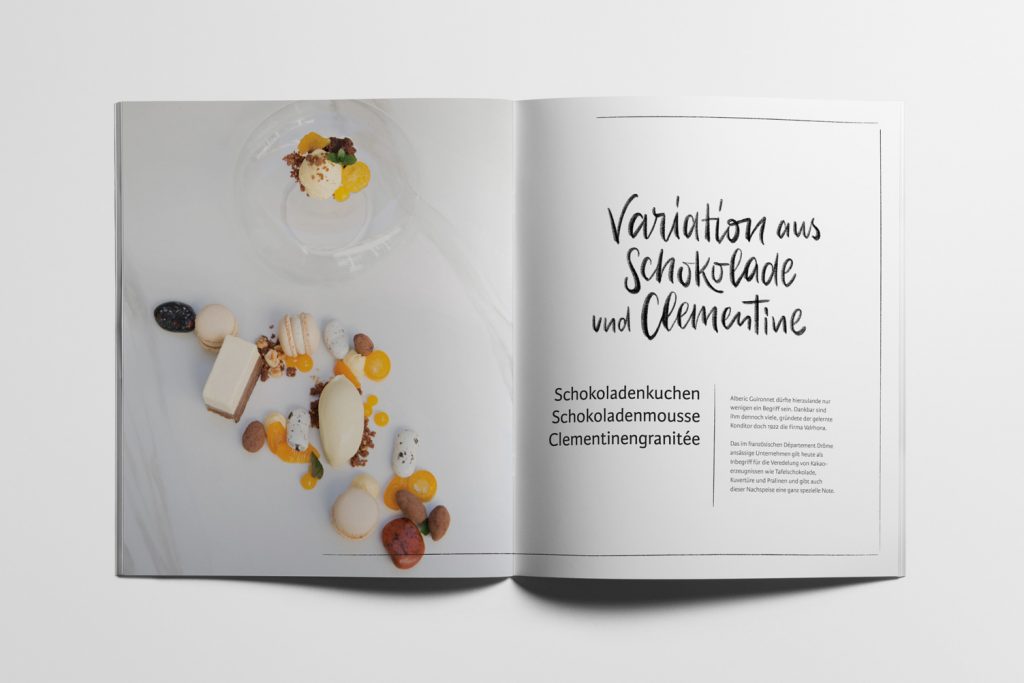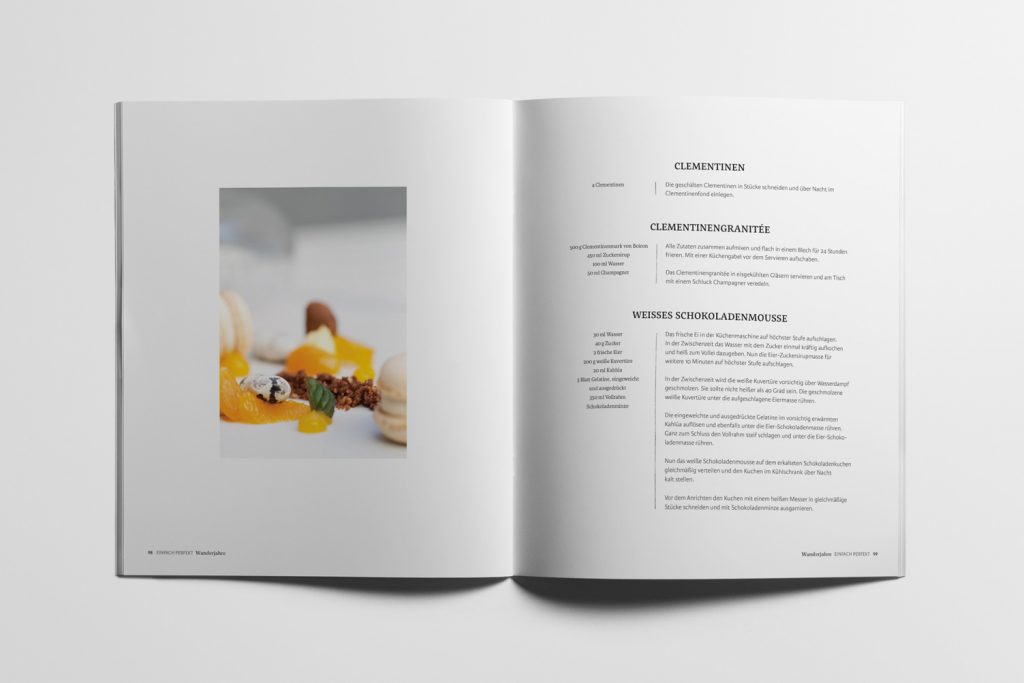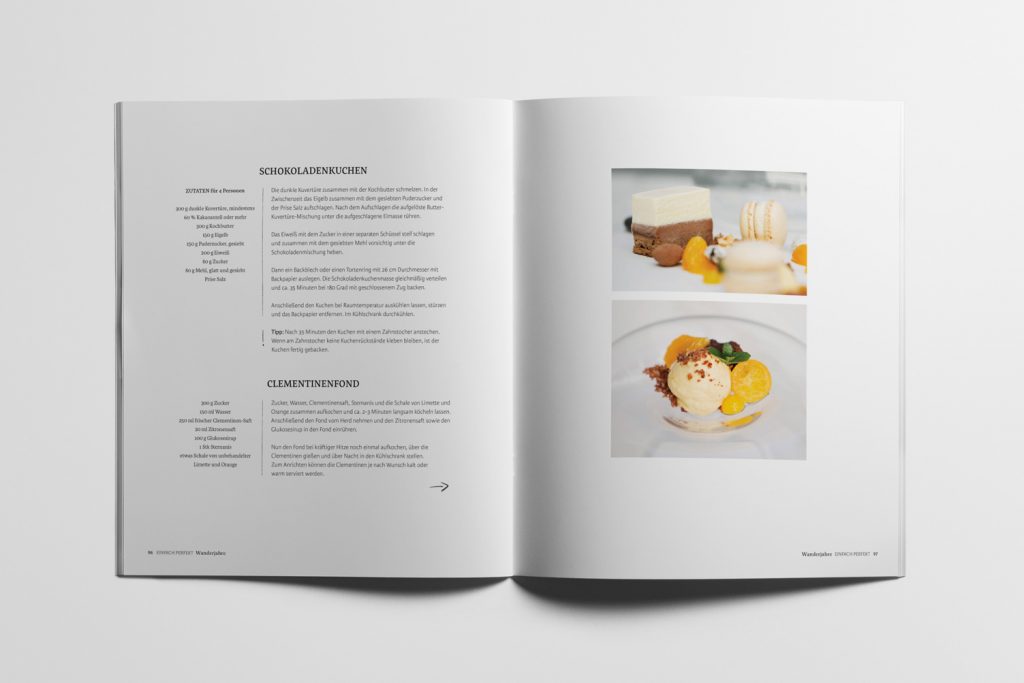 Cookbook printing
Printing any type of a bigger publication requires a close collaboration with the printer. You choose the paper that fits best for your projects and discuss possible printing finishes.
These are images from the press check of the cookbook. Gladly the team of the agency took care of it because I wasn't in Germany during the time the cookbook was printed.
Bi-Fold Invitation Card
The first book presentation took place in Bernd's restaurant in Switzerland. I created the invitations for this special event, a bi-fold card. Invited guests and partners could have a first glance at the cookbook and enjoy samples of the cookbook recipes from a flying buffet.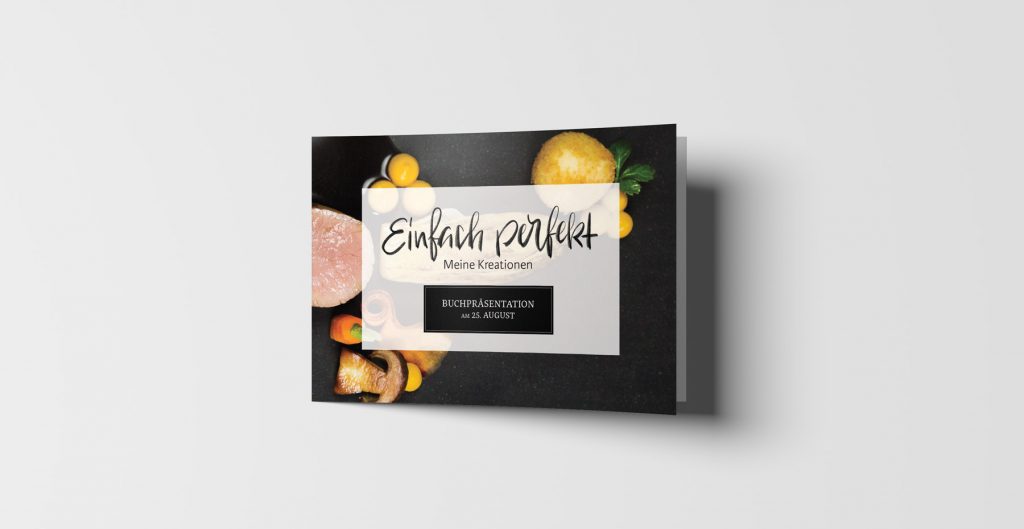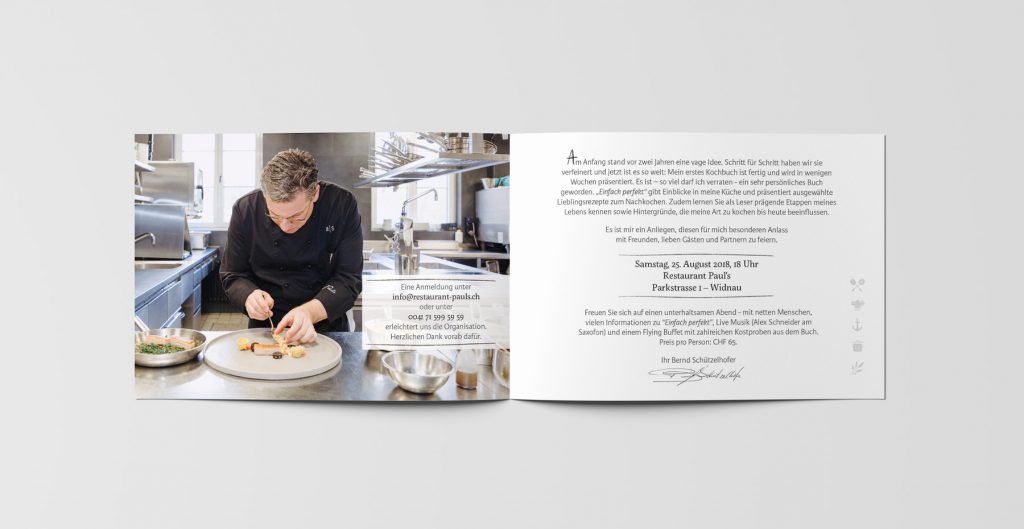 Recipe Card Give Away
Guests who came to the book presentations got a little present. A wooden spoon with a recipe card attached to it. The recipe is one from the book.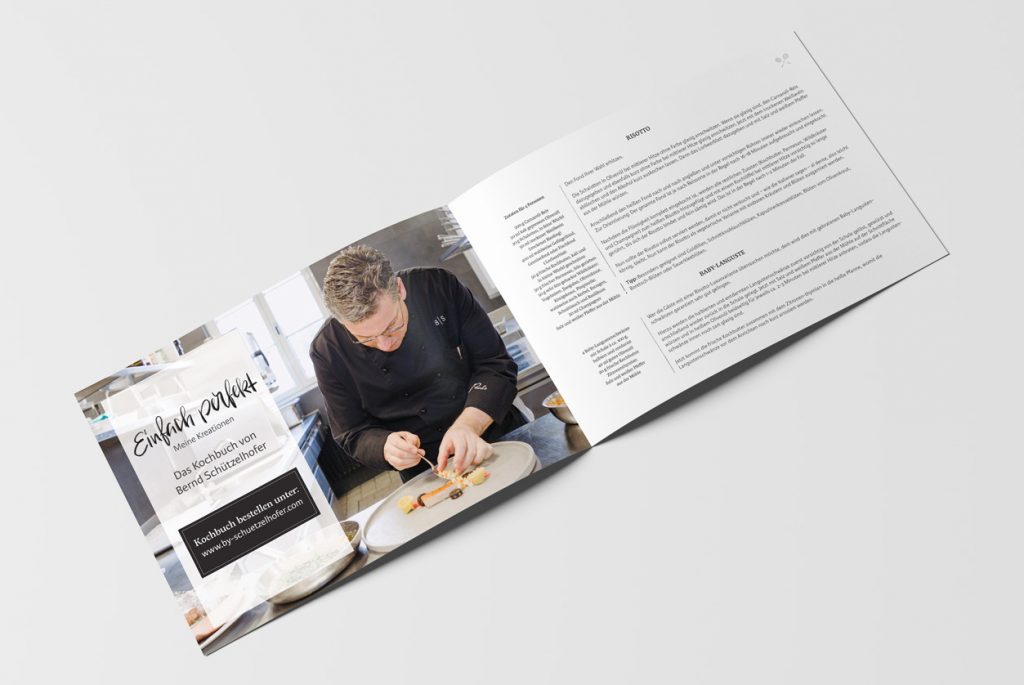 Cookbook Design Cover Display
We printed the cover in a big format to make a bold statement at any of Bernd's book presentations.
The Cookbook Release
The cookbook release took place at chef Bernd's restaurant Paul's in Switzerland. Amongst family, friends, business partners and guests the first presentation of the cookbook "Simply Perfect" was simply perfect 😉 These are various impressions from that evening.