How To Make A Cookbook Design That's Simply Perfect
Thanks to my Italian heritage, I've had a long-standing appreciation for the intricacies of food. For Italian families, our daily routine is determined by what meals we'll eat that day. Having a reliable cookbook in the home is key to ensuring these routines run smoothly.
So when I got the opportunity to create a cookbook design for a client, I was very excited! I knew what an important resource this book would be to families around the world. When my grandmother held the finished book in her hands for the first time, she even teared up. (I suspect that now she finally understands what I do for a living 😉
The cookbook's star is gourmet chef Bernd Schützelhofer, who runs the restaurant Paul's in Switzerland. With this cookbook Einfach Perfekt ("Simply Perfect"), Schützelhofer grants—for the first time—comprehensive insights into his kitchen and presents selected favorite recipes for cooking at home. Throughout the book, readers learn the personal stories and backgrounds that influenced his culinary art.
For this project, I was proud to work with the amazing people at the agency CONTUR, as well as talented photographer Lisa Dünser. We worked together as a team for over a year to produce this cookbook design, and the experience was pure joy and a lot of fun.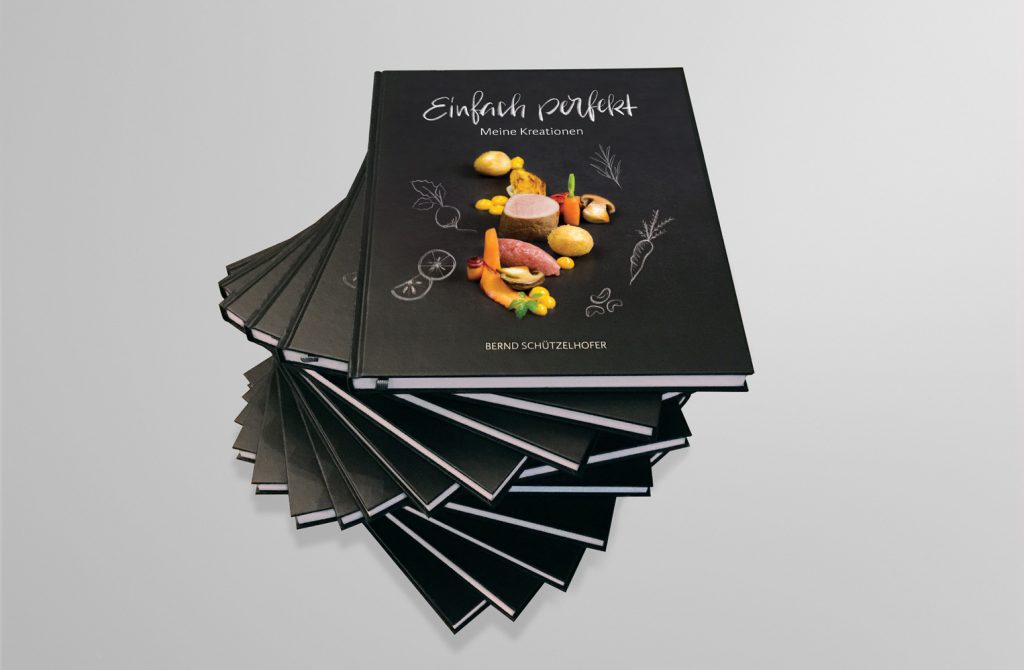 Client:
Chef Bernd Schützelhofer
Project Details:
Art Direction
Layout Design
Illustrations
Hand Lettering
Marketing Material
A Love For Details
Schützelhofer's cuisine is very detail-oriented. You can definitely taste the passion that he brings to each and every one of his recipes.
I wanted to mirror Schützelhofer's love for detail in the cookbook design. To accomplish this, I created a multitude of hand-drawn illustrations to adorn the pages of the book.
Hand-lettering is my hobby, and I try to weave it into my projects so that I can do more of what I love. The fonts and icons you'll see here are not designs that can be used by anyone else. They are created from scratch and totally unique. In this section, I'd like to walk you through some of my hand-drawn illustrations.
To start, I decided to use a chalkboard background to reflect the local and fresh ingredients that the chef uses in his kitchen.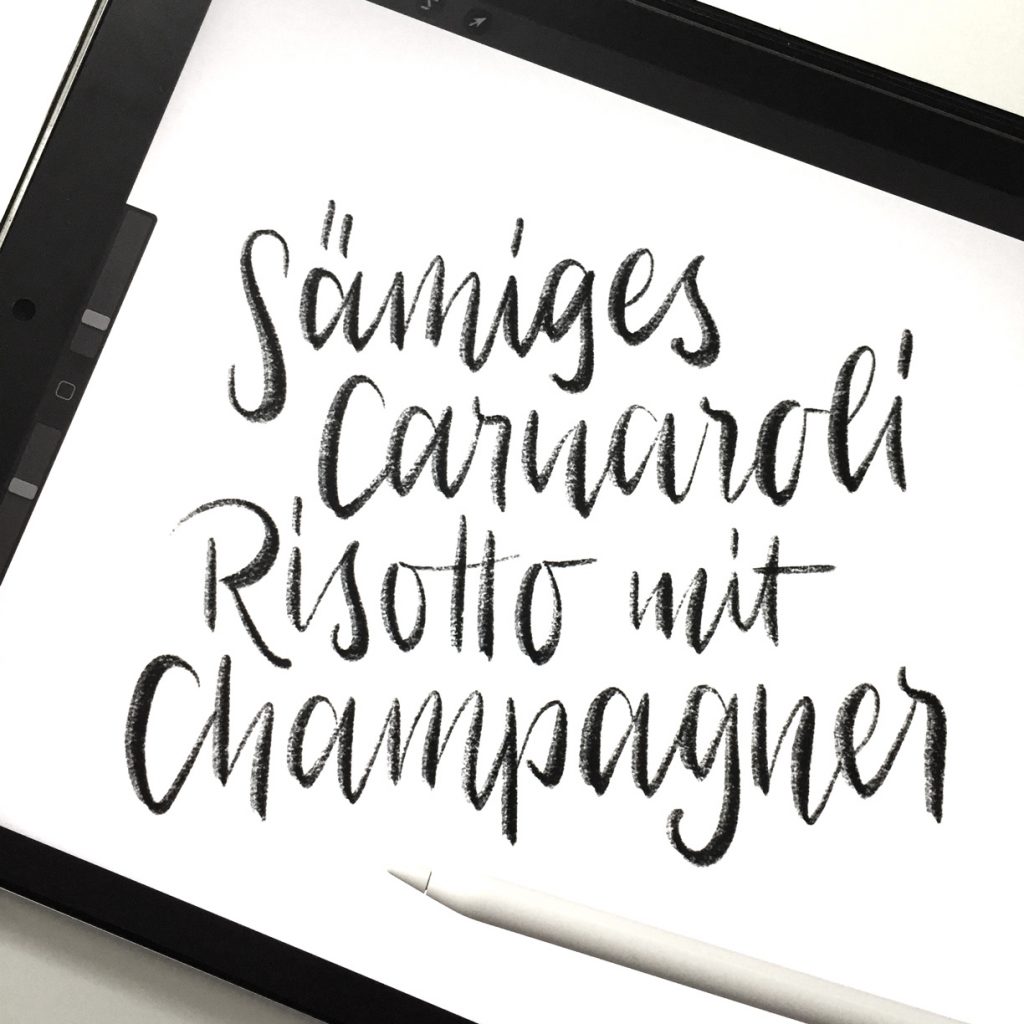 Each chapter begins with a quote, handwritten by me:
There is also an icon associated with each chapter. So much love went into drawing these icons! You can't get them simply by sending a command to inDesign.

I included the icons on each page of the associated chapter as well. I also drew the first letter (the drop capital) at the beginning of each chapter. These subtle details throughout the cookbook design give it a unique and personalized character.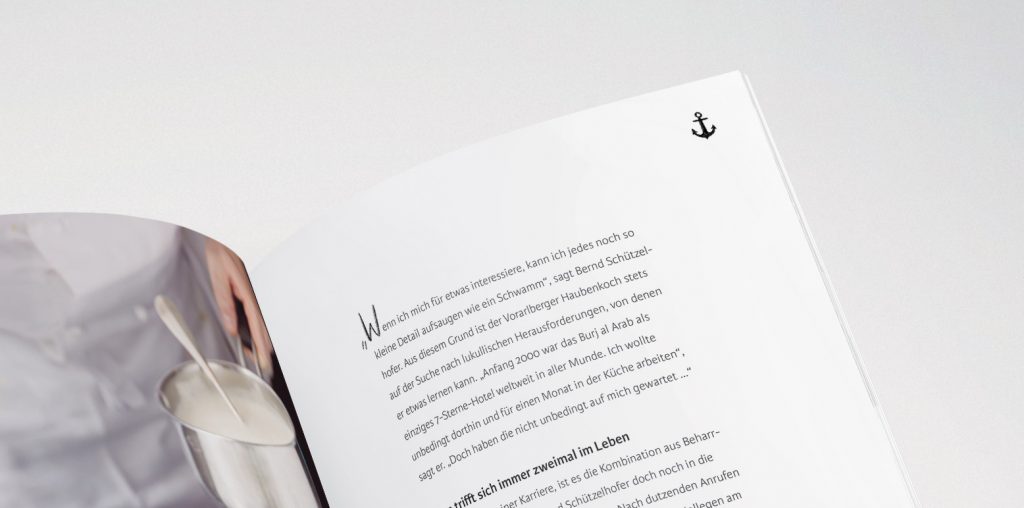 When I say "detail-oriented," I really mean it! I put so much work into the detailing. Every line, every arrow, every info box, every fruit or vegetable… all hand-drawn by me.


The Final Design
The cookbook is 172 pages long and includes 22 recipes. There are a great mix of starters, main dishes and desserts that readers can try at home.
In this section, I'd like to walk you through some of my favorite spreads from the book!
The book is split into 5 chapters, each addressing a milestone in the chef's career: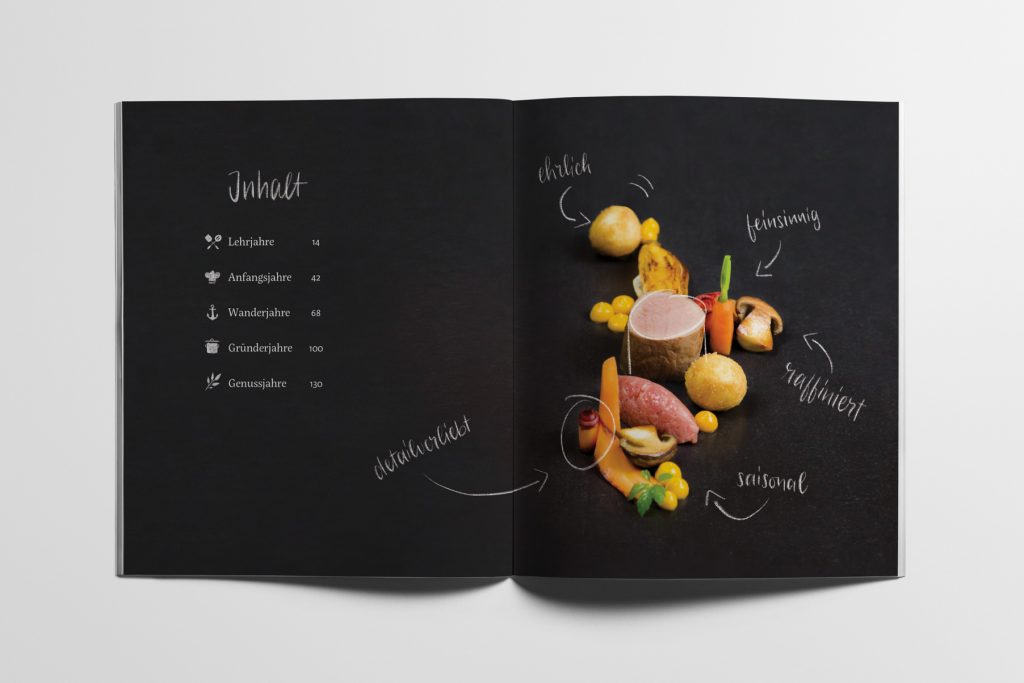 A special quote from the chef himself opens each chapter: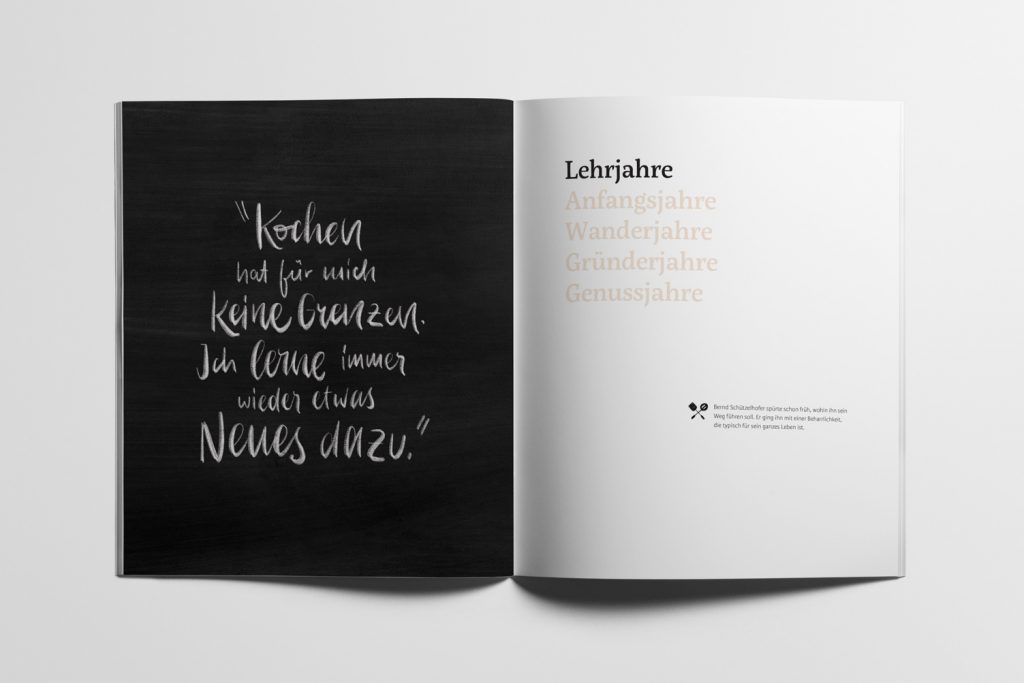 On the right-hand side, the name of the current chapter is emphasized, and the chapter's icon is introduced further down the page.
The next two pages go into detail about the Chef's life during that time period: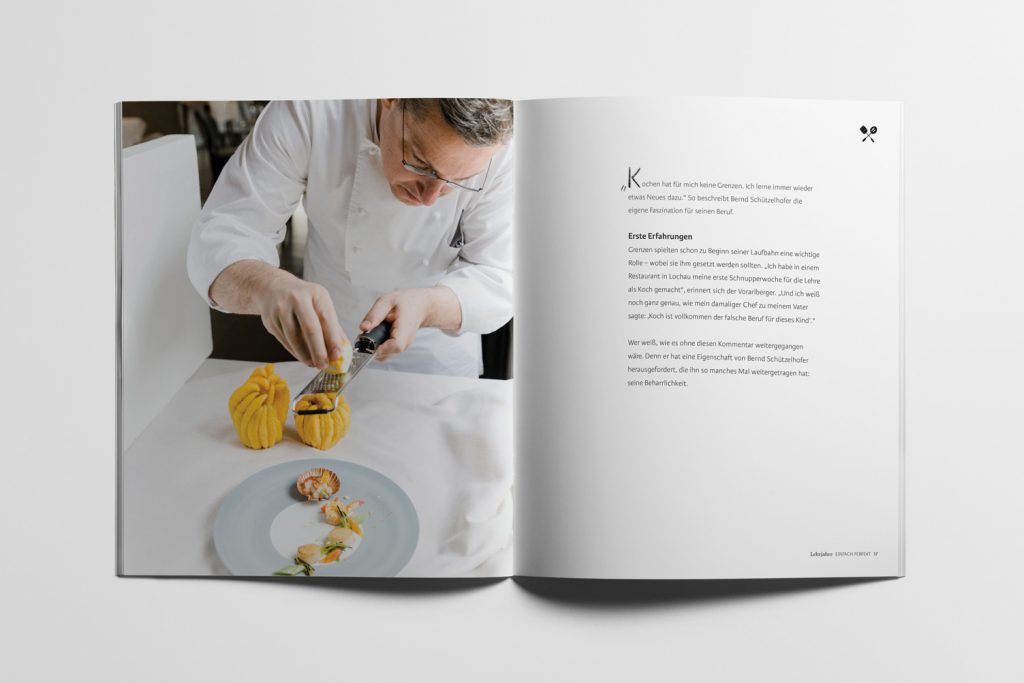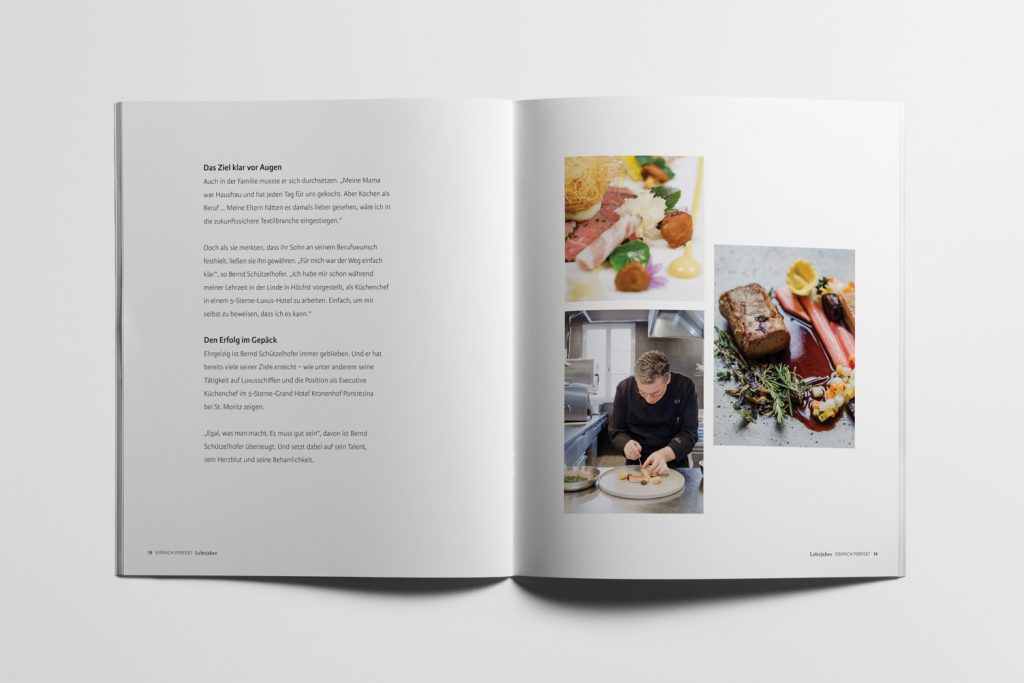 It's time for the recipes! Each section offers a selection of starters, main courses and desserts that readers can try on their own: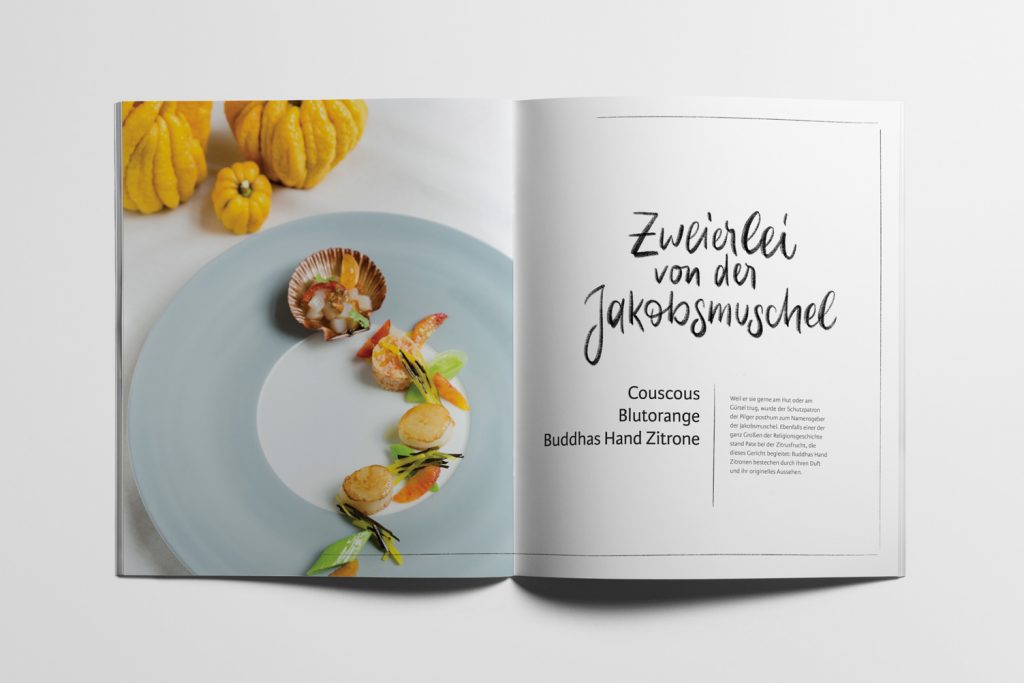 Some pages feature hand-drawn info boxes that explain part of the recipe in further detail: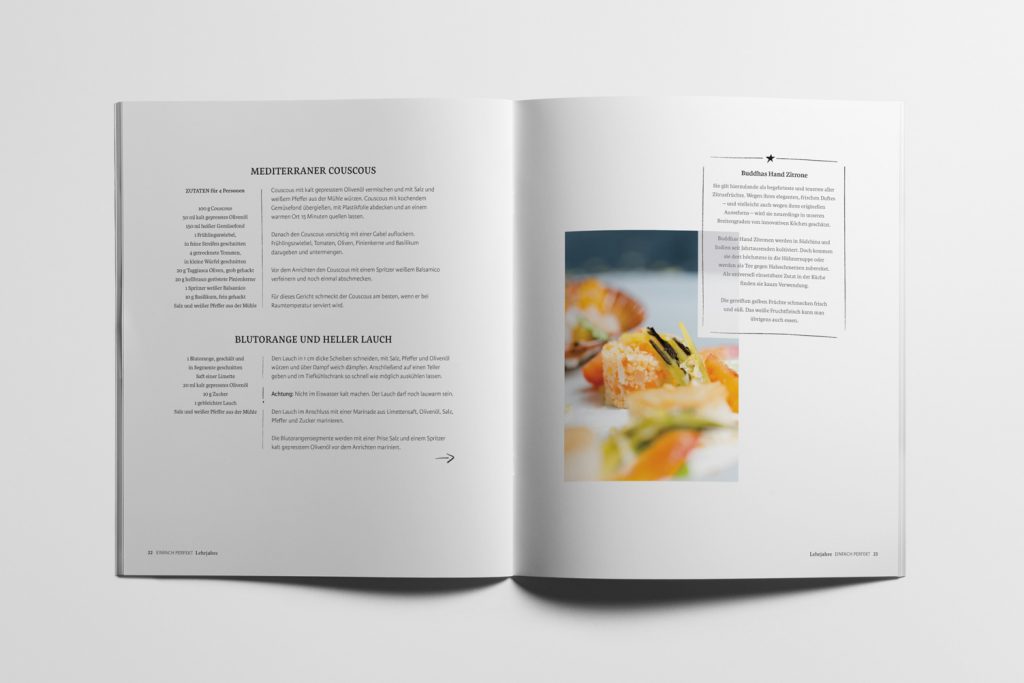 Others come with a wine suggestion! The bottle and the box itself are also hand-drawn: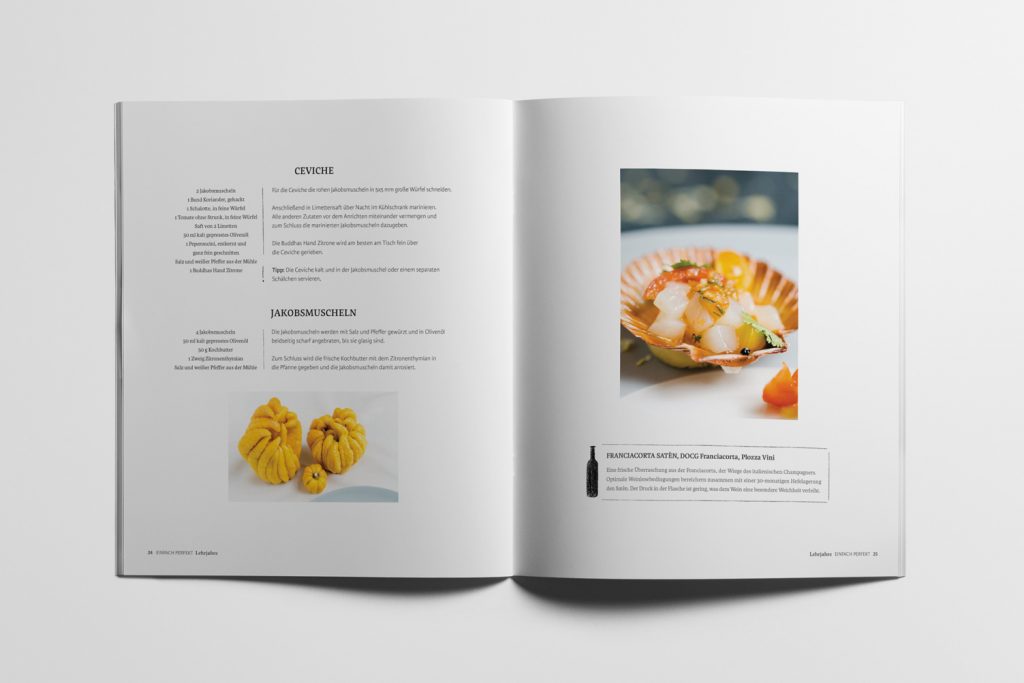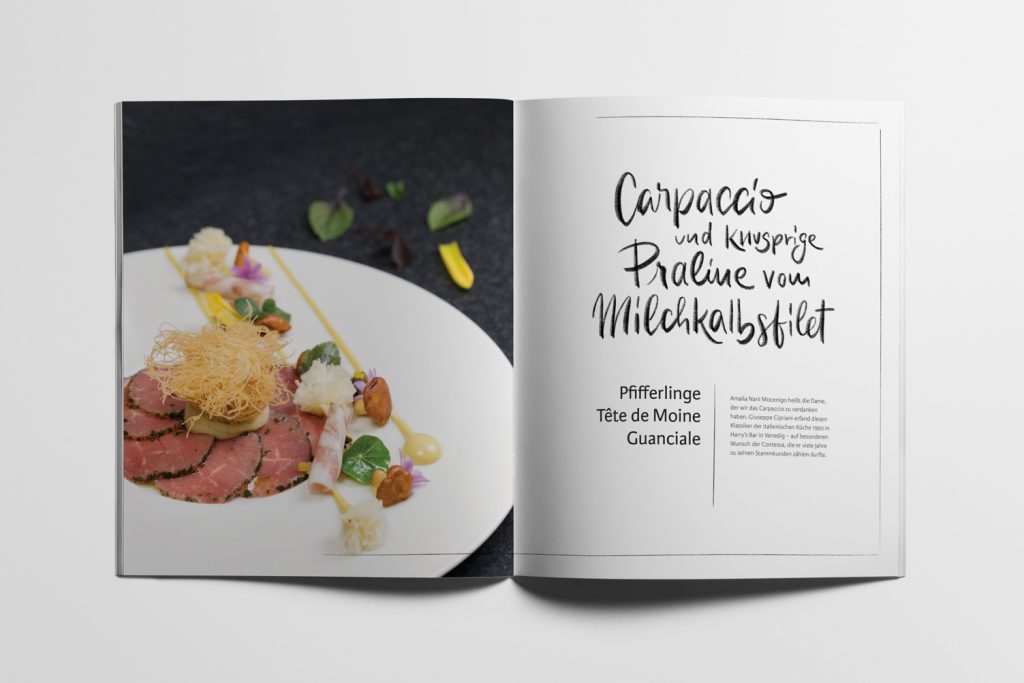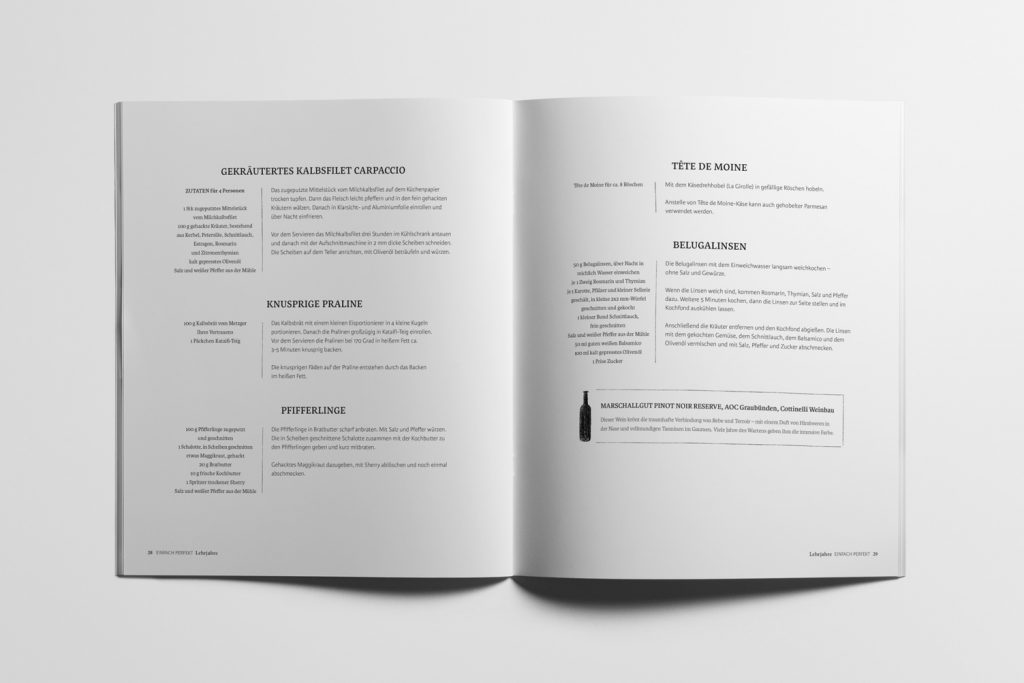 Beautiful double-sided images (courtesy of Lisa Dünser) give an even closer look behind the scenes of the chef's kitchen: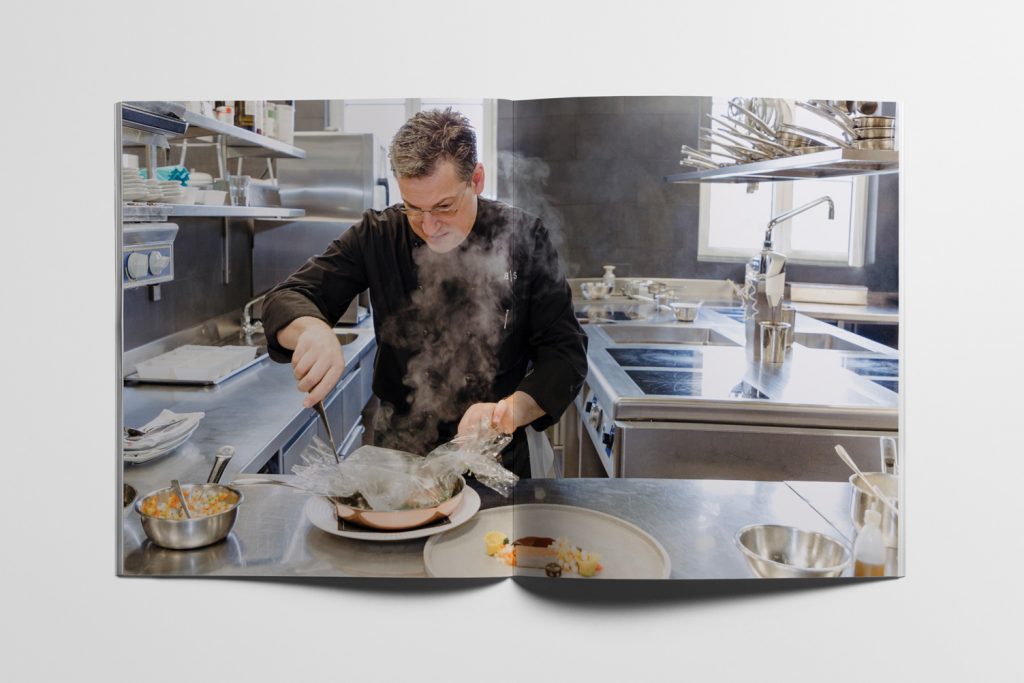 From there, the book repeats the pattern: an opening quote, insight into the chef's personal life, exclusive action shots, and delicious recipes ready for you to try! Here are a few of my favorite spreads from the book: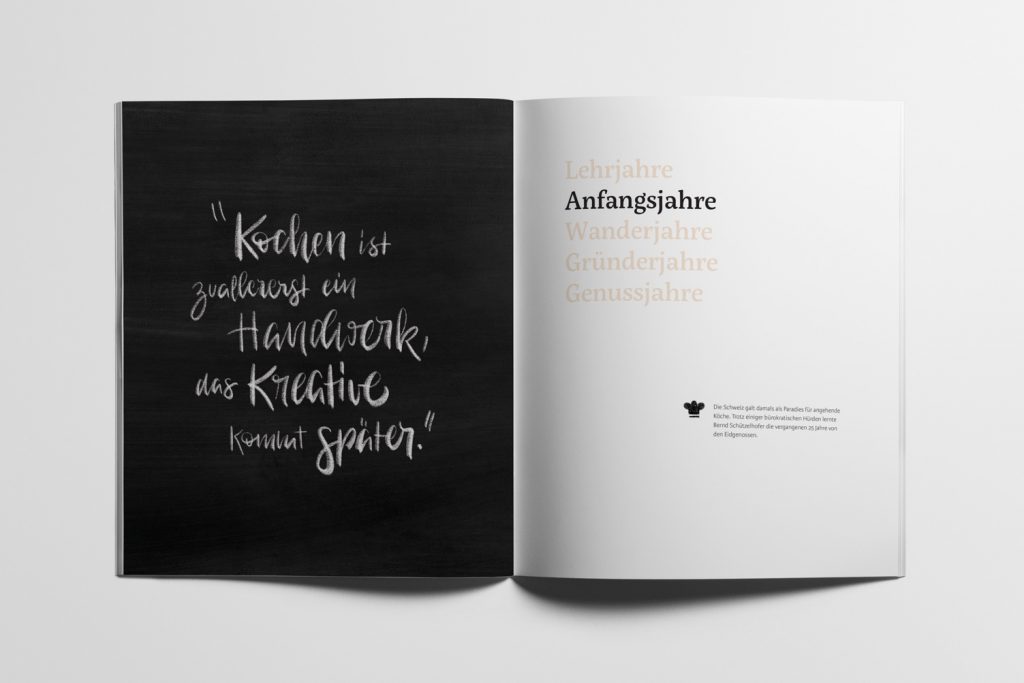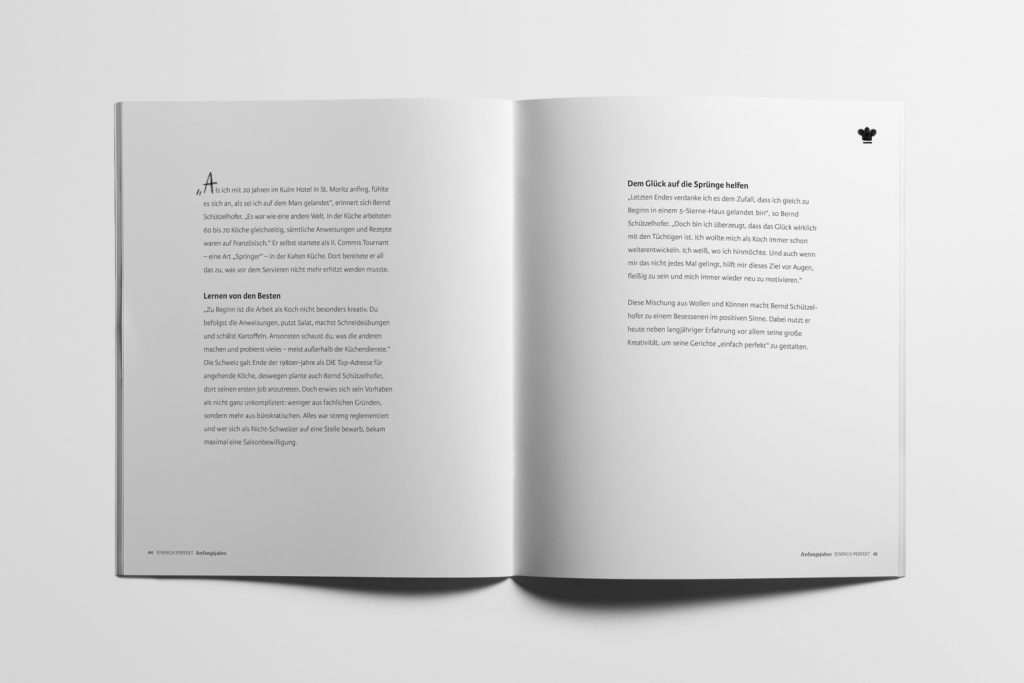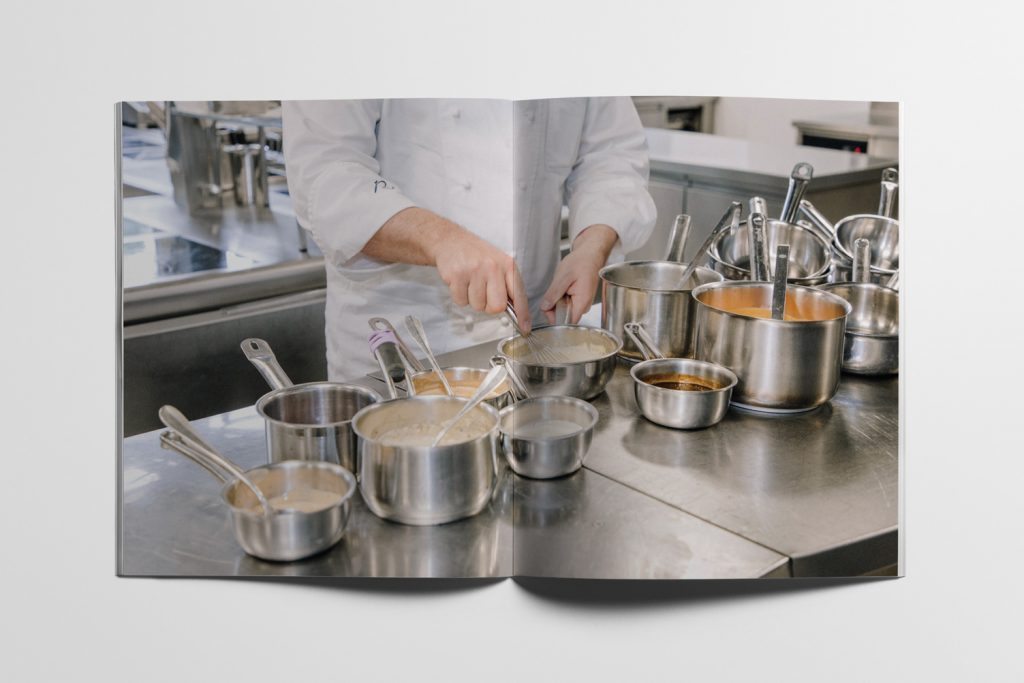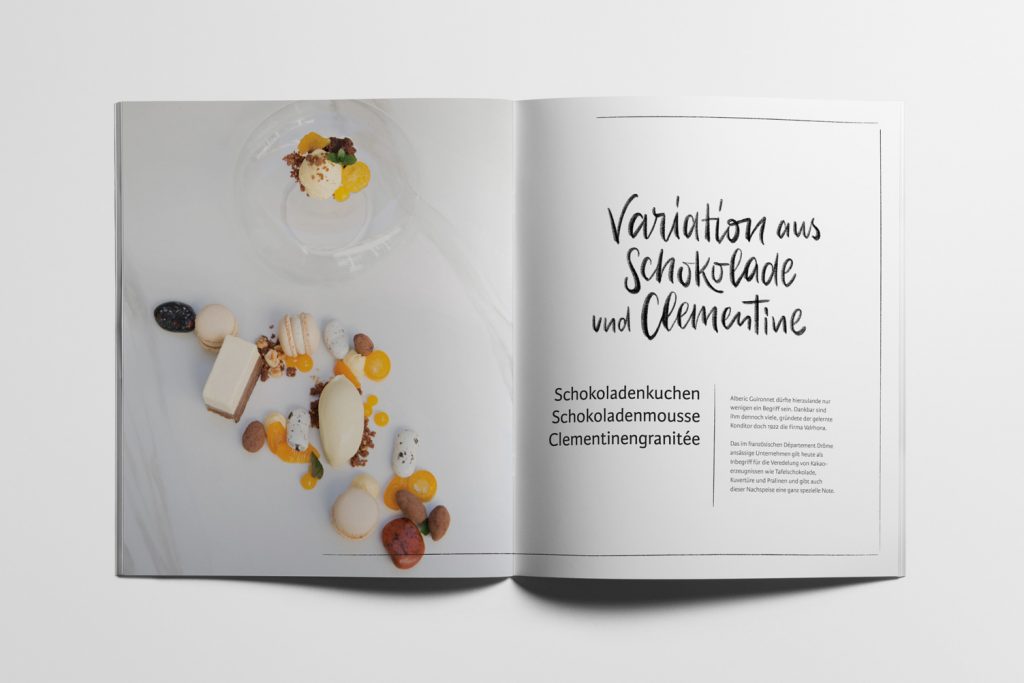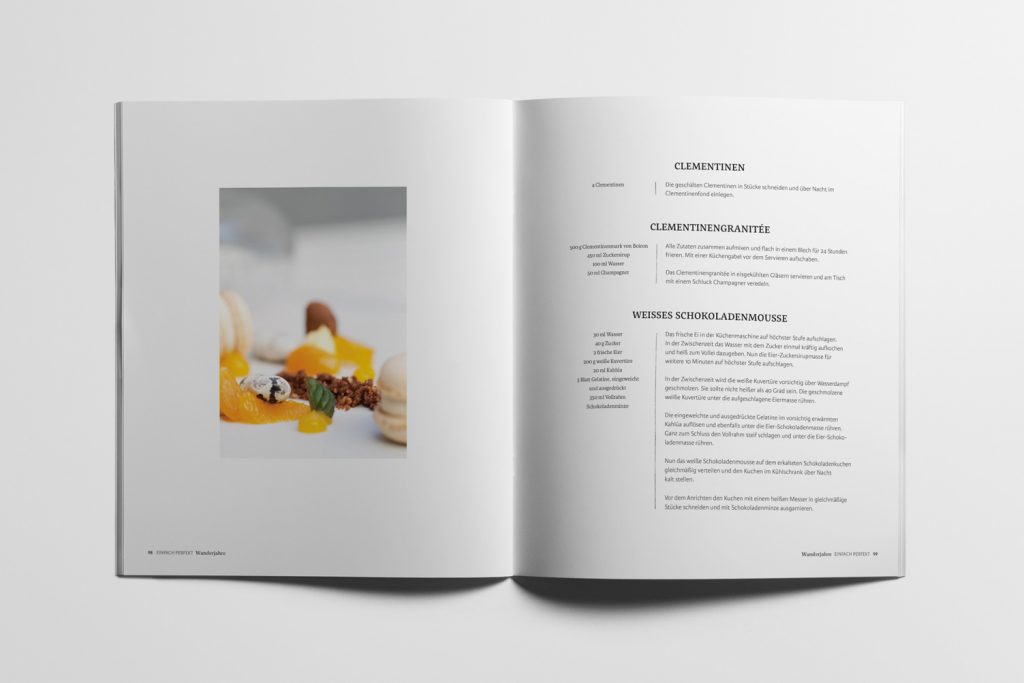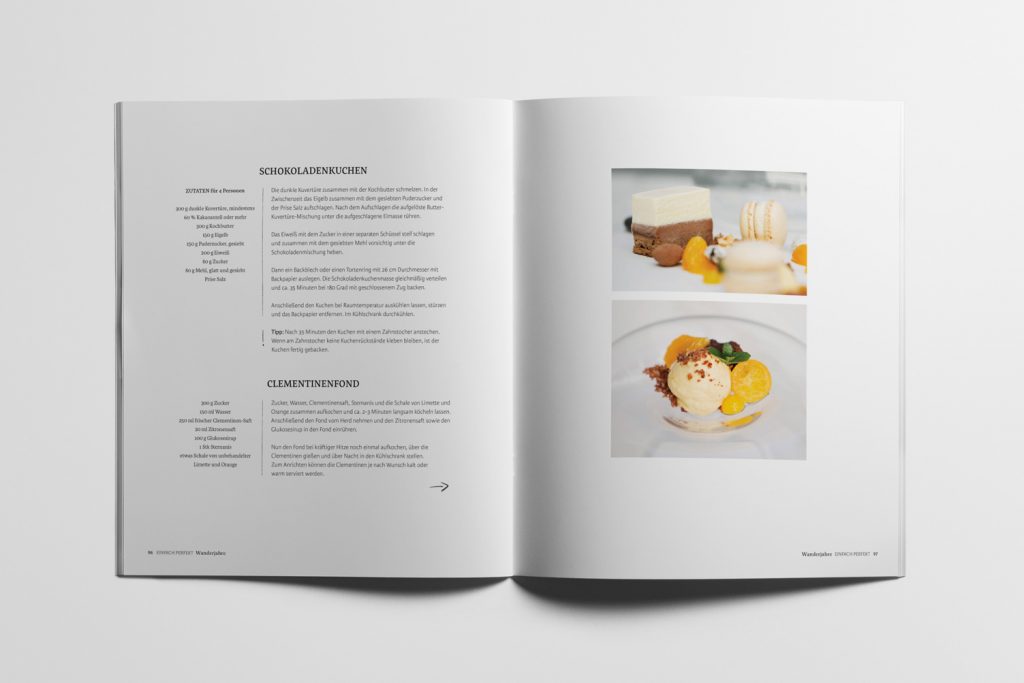 How Do You Print A Cookbook?
Producing any type of large publication requires close collaboration with a printer. Together, you'll decide which paper best fits your project and discuss any possible printing finishes. For this project, chef Schützelhofer himself went to approve the colors and make sure everything looked good!
Here are a few images from the press check of the cookbook design. Since I wasn't able to be in Germany during the time of the printing, the agency team graciously took care of everything.
Think Of The Possibilities!
One of my favorite parts of working with clients is being able to give them something they didn't know they needed. Most clients come to me looking for a logo, but many of them don't know that there's so much more to their brand than just a logo design!
Depending on the type of business, a client could need a website, business cards, information leaflets, stickers… The list goes on!
For this project, in working closely with the agency, it was discovered that invitation cards and recipe cards would be needed for the cookbook's first presentation event. I was happy to include these designs in the final project as well!
Bi-Fold Invitation Card
The first book presentation took place in Schützelhofer's restaurant in Switzerland. I created the invitations for this special event in the form of a bi-fold card. Invited guests and partners got a sneak peek at the cookbook, and even enjoyed samples of its recipes!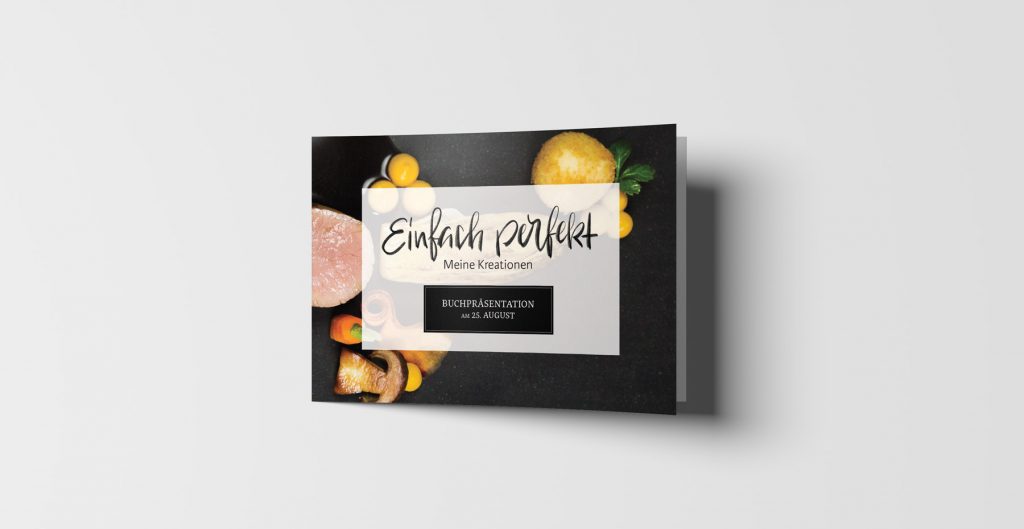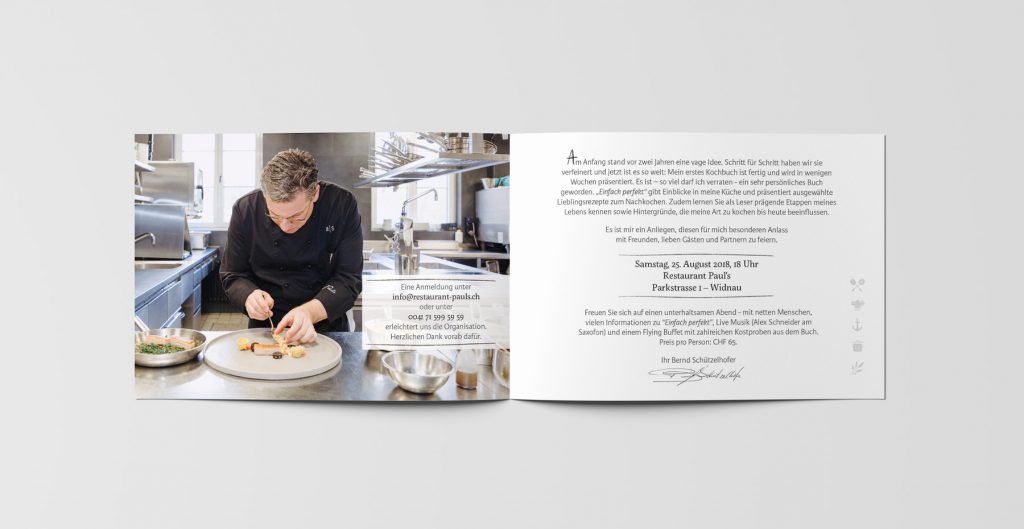 Recipe Card Give Away
Guests also received a special present: a wooden spoon with a recipe card attached to it. I adapted the design from one of the book's recipes.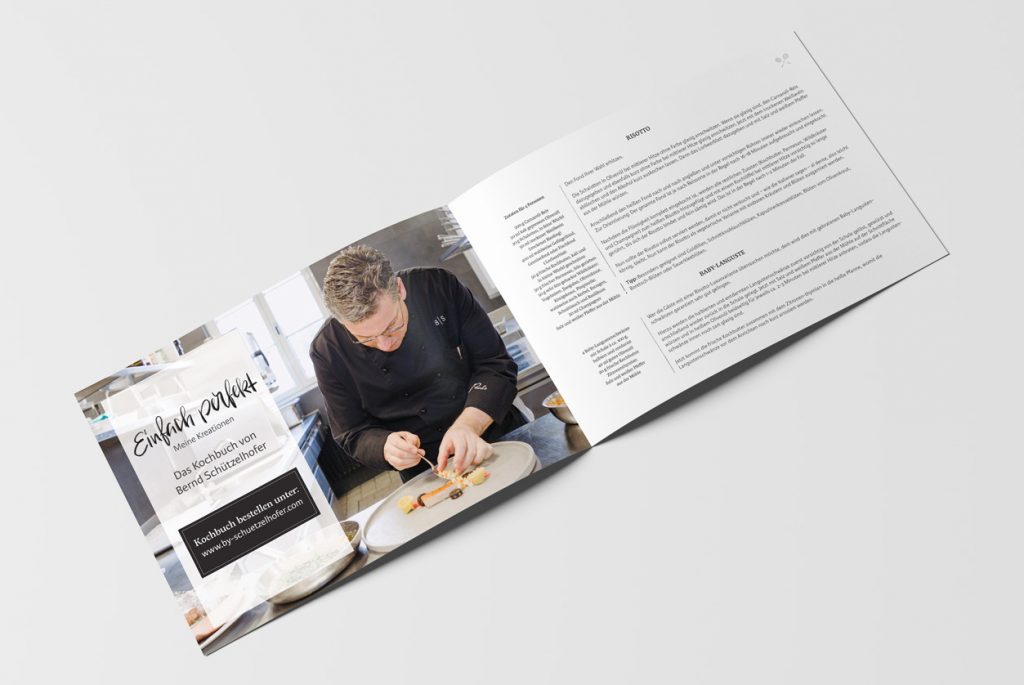 Go Big Or Go Home
We blew up the cover of the book to make a bold statement at the book presentation events.
Bon Appétit!
The book release took place at Chef Schützelhofer's restaurant Paul's in Switzerland. Amongst family, friends, business partners and guests, the first presentation of the cookbook "Simply Perfect" was… simply perfect 😉
If you're ready to get started on finding a fresh and unique design for your brand, then click below to book your free design consultation!