I did a short brush pen review for a friend of mine. She is a hand lettering beginner and was wondering which pens I used to create certain hand lettering styles.
Living in the countryside makes it difficult to get brush pens in stores. I'm glad there is Amazon to help me out sometimes. My toolbox thus is very basic. But hey, you don't need much to have fun with hand lettering and to create something beautiful.
My advice is to Ship, ship, ship! Better to get your project delivered before it never happens due to perfectionism… Overcome your doubts and just do it. In hand lettering, it's all about practice.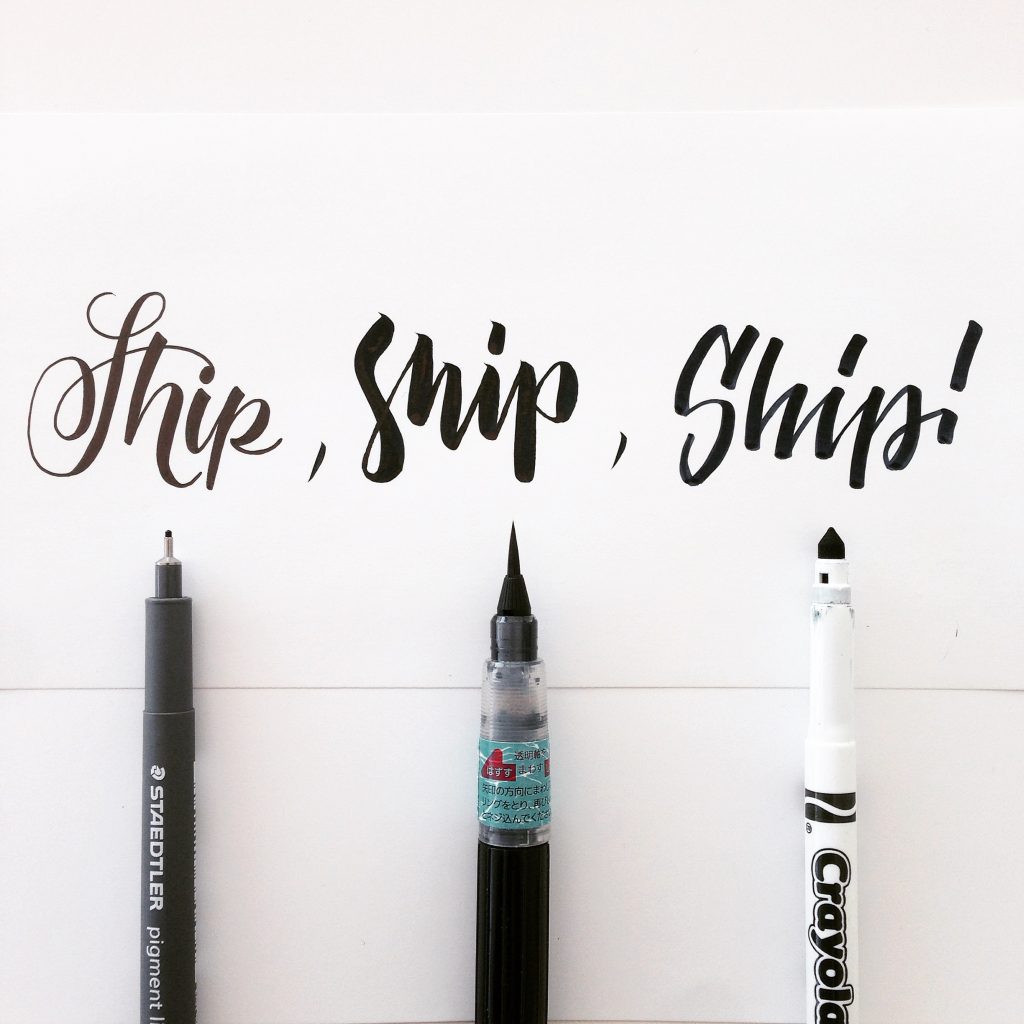 I'll start my brush pen review with the Steadler Pigment Liner because I feel the most confident with this one. I can control the thick downstrokes better by drawing them. The downside of this pen is that the black is not as saturated as the black from the other pens. Also, I found out that this pen is not light resistant. Fellow artist @laermlover gave me the great suggestion to check out the Faber Castel Pitt Pen instead. It's light and water resistant AND the black is real black. I can't wait to "go shopping" soon. 😉
The Pentel Fude Pen is my new secret love. It's a cartridge-based Japanese brush pen. It takes a bit of practice to control the fine, synthetic hair tip. The thick downstrokes are easier to make than the thin downstrokes. I got this refillable pen on Amazon since, as I mentioned, living in the countryside sometimes makes it hard to get special tools. Thank you, Amazon! Because normal printing paper absorbs a lot of the precious ink, I prefer to use coated paper. But caution: it might take a little while for it to dry!
The Crayola Pen is an awesome marker for trying out hand lettering. Crayola markers were designed for kids—that's why they're very long lasting and cheap! The sturdy, soft felt-tip is ideal for controlled thick downstrokes and thin upstrokes. It's fun to play around with them and it's handy that they work on any paper.